Storyteller: Judy Allen Dodson
Judy Allen Dodson is a librarian, archivist, and children's book author. The winner of the 2016 SCBWI On-the-Verge Emerging Voices Award and a recipient of a North Carolina Arts Council Grant, she's a member of SCBWI, the regional co-ambassador for the Authors Guild, and a former member of the Coretta Scott King Archives and History Committee. Through her lens of an authentic and experienced voice, Judy's purpose is to teach young children about Black History through the stories of unsung heroes. Her passion is to give Black children books where they see characters that look like them and know that they too can aspire to be great. "The best part about writing for young people is that I get to take them on journeys that will positively impact their lives forever. From history to the fantastical, we'll explore new adventurous worlds together." Her recent book, Escape From Hurricane Katrina ( Little Bee Book, July 2021) is a 2021 Junior Library Guild selection. She lives in Raleigh, North Carolina with her husband and two children.
Follow Judy Allen Dodson:
Judy On Writing for Children:
"I want Black children to see themselves in books and know that they too can aspire to be great. I also want children from all cultures to see Black people living and being in everyday situations so that they know that we are human and that our lives matter. It's important for me as an author, librarian, and historian to reach children and teach them at an earlier age to respect differences as a positive, not a negative, whether that be someone's race, religion, gender, disability, etc."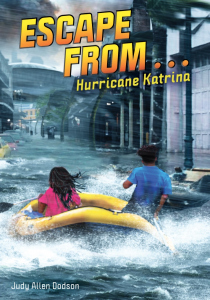 Would you like to see and purchase titles from our Storyteller cohort and members of The Brown Bookshelf?
THE LITERARY CAFE–BOOKS & EVENTS Bookstore Amplify Black Stories Book List, Curated by The African American Children's Book Project showcases a wide range of topics and talent from the Black Literary Community, including our cohort of Storytellers and members of the Brown Bookshelf. The list includes both non-fiction and fiction titles that will empower, enlighten and enrich all readers. Visit the bookstore.
See all Storytellers in the 2021 Amplify Black Stories cohort.