COVID Protocols at Our Retreat Center
Update: January 12, 2022
Dear Friends,
We hope this note finds you safe and feeling well.
We continue to operate with care and caution in our retreat space, especially as we navigate new knowledge about COVID and its variants. Please check back here as this page will be updated regularly.
Below you will find updated COVID protocols. If you are no longer able to travel in person to our retreat center, we can provide you a full refund or offer an online option. Please be in contact with us via email at contact@HighlightsFoundation.org should either option be of interest or need.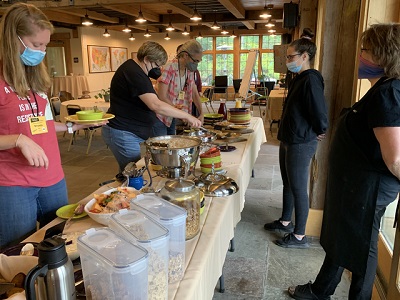 While we are working hard to mitigate risk, you should be aware that there are potential risks associated with traveling to and being on campus at the Highlights Foundation. As a result, we want to be clear about our processes and protocols so that you can make the best decisions you can for your own health and safety.
Processes and Protocols
Vaccination. We strongly recommend full vaccination of our staff and guests who are able. However, vaccination is not a requirement of staff or guests.
Masks. We ask guests to please wear a mask while inside the Barn, especially while at the buffet and when around others. We understand that wearing a mask while seated for eating is not possible. We also understand that wearing a mask when alone inside is not necessary, but ask that you please wear a mask while others are in a shared space with you. All our staff will be masked when interacting with guests. We limit our staff interaction with guests, balanced by our commitment to providing a quality experience.

Dining. Meals are served buffet style, and all guests and staff are required to wear masks in and around buffet and food service stations.
We have multiple dining tables available in both indoor and outdoor spaces (in good weather.) Tables are spread out for social distancing, and we encourage you to limit the number of people at a table.
You are welcome to take a plate to your room or a private space. We can prepare "carry-out" meals for you to grab and go if you prefer that option. Just let us know.
Capacity and Physical Distancing. The indoor capacity in The Barn (our main dining and meeting space) is 100+. During this season on campus, our guest count on campus will be limited to one-third capacity. It is a large, open building with high ceilings; a ceiling fan on to circulate air; and the ability to open sliding glass doors and windows, weather permitting. Our heating and cooling system filters are changed monthly.
You will have your own private room, with a private bathroom unless you have otherwise made accommodations with us to room share.
Our campus is spread out, with plenty of outdoor opportunities for sitting, walking, and enjoying the natural beauty of our area.
Hand sanitizing stations are located at all public entrances.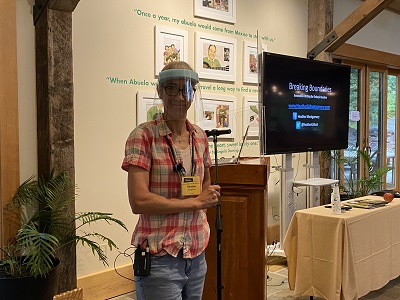 For Workshop "Classroom" Time (If your time on campus includes it.) Some lectures will take place inside The Barn. Tables will be spaced out, and we'll ask you to limit seating to three people per table. Faculty will set up a minimum of 6 feet from the nearest student if unmasking is necessary to provide high-quality teaching to you.
Some classes will be held outside, weather permitting. For observations outdoors where you might "lean in" to see something, we ask the entire group to be masked. If you're walking and socially distanced outdoors, you can feel free to remove your mask.
Please be aware that in some classes you may be asked to share materials (books, documents). Please make arrangements with your faculty for how you would like to interact with these materials.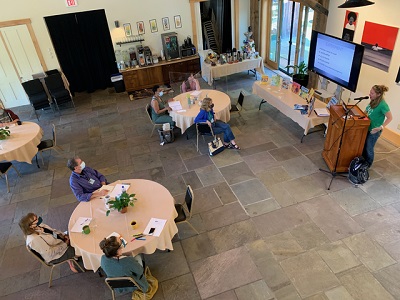 Our reschedule/refund policy reflects our community values, especially during the COVID-19 pandemic. Learn more about it here.
If you've never been here before, it may be hard to understand and envision everything we're talking about. To get a sense of what the campus looks like, you can watch this video for a glimpse of the grounds and setup. (Please be aware this video was created pre-COVID, so people are not wearing masks in it). We're also happy to answer any questions you have.
Health concerns come first. If you or a member of your household are experiencing a fever or any symptoms of illness, please refrain from visiting in-person. We will reschedule or refund your stay according to the above linked policy, or you can join us virtually if you can.
If you become ill while on campus, please let us know via phone or text 570-470-7958. We will be happy to provide you with any accommodations we can to provide comfort. Please do not come into the Barn or other public indoor spaces if you do not feel well. We'll be happy to bring you meals, take you for a test, and do anything else we can make your stay comfortable while providing safety for our guests.
In the event of a COVID case at the retreat center, we will notify all guests who were/are on campus during the infected person's stay. We will encourage you to do what works best for you, and to follow CDC recommendations.
Thank you for working with us to create a caring environment for our community during these times.