Few people in this world qualify as true visionaries. Fewer still have the passion and energy to turn their visions into reality. Bernice E. (Bee) Cullinan was one of those people. For more than 50 years, Bee championed the vital importance of exposing young readers to high-quality children's literature in the classroom. She touched so many people in so many ways.
Bee was a Founding Faculty member for the Highlights Foundation Writers Workshop at Chautauqua and has had a lasting impact on the Foundation and its programs. She served as a teacher and program supporter for many years, mentoring dozens of aspiring writers. An endowed scholarship was established in her name in 2005 and has grown steadily. This scholarship fund enables deserving writers to participate in Foundation programs. Over the years the scholarship has supported a number of promising poets.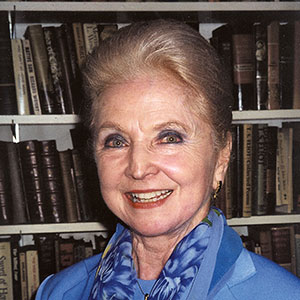 Bernice E. Cullinan, 1926-2015
More about Bee:

Teacher: A professor emeritus of reading and children's literature at New York University, Bee instilled in hundreds of teachers and teacher educators her love of children's books during her 30 years of university teaching.
Author: Through Read to Me: Raising Kids Who Love to Read and through multiple editions of Literature and the Child and Children's Literature in the Reading Program, Bee spread the gospel of children's literature to a worldwide audience of teachers and parents. In all, she wrote or edited more than 40 books.
Poetry Editor/Anthologist: As the founder and long-time leader of Wordsong, the poetry imprint of Boyds Mills Press, Bee worked to bring excellent children's poetry to an ever-wider audience. As an anthologist, she edited A Jar of Tiny Stars: Poems by NCTE Award-Winning Poets and Another Jar of Tiny Stars.
Leader: Bee served as president of the International Reading Association in 1984-1985. She also served on many awards committees, including those for the Caldecott Medal and the Ezra Jack Keats New Writer Award.
Award Winner: Bee's many honors include induction into the Reading Hall of Fame in 1989. That year she also received IRA's Arbuthnot Award, which honors an outstanding college or university teacher of children's and young adult literature. In 2003 Bee received the Outstanding Educator in the Language Arts Award from the National Council of Teachers of English.
Mentor: Bee mentored hundreds of teachers and teacher educators, as well as dozens of aspiring poets. Her enthusiasm and confidence was contagious.
Friend: No matter how you came in contact with Bee, she immediately accepted you as a friend and made you feel special.
Bee's legacy will live on through her books, through the work of the many students and poets she mentored, and through the Highlights Foundation scholarship that bears her name. That scholarship supports aspiring poets, ensuring that future generations of students will continue to have access to the high-quality literature that Bee desired for them.  (Tribute by Bee's friend John Miklos)
"My life is richer because I carry children's literature around in my heart. And I want all kids to have that. My goal in life is to get parents and teachers so excited about books they'll continue handing on to our children the magic — a love of literature."— Bernice E. Cullinan at the 1997 Highlights Foundation Writers Workshop at Chautauqua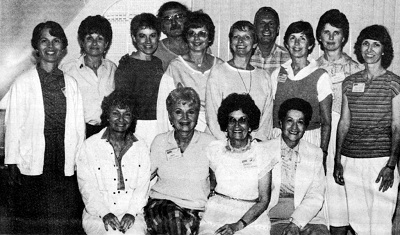 Faculty at the inaugural Highlights Foundation Writers Workshop
at Chautauqua in 1985.
Seated: Judith Enderle, Bernice Cullinan, Shirley Jorjorian, Pauline Watson; Second row: Caroline Arnold, Stephanie Tessler, Marilyn Kratz, Sally Lucas, Lois Lowry, Kathleen Stevens, Marileta Robinson; Back row: Laurence Pringle, Peter P. Jacobi, Barbara Elleman.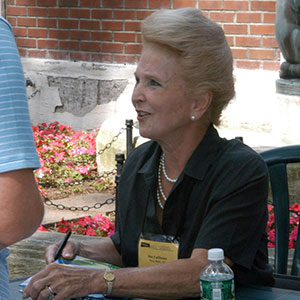 Bee at a book signing at a
Highlights Foundation conference.