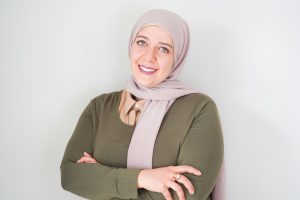 Storyteller: Aya Khalil
Aya Khalil is the award-winning author of The Arabic Quilt: An Immigrant Story, which is an NCTE's Charlotte Huck Award Recommended Book and a 2021 Arab American Book Award among other honors, Our World: Egypt (October 2022), The Night Before Eid: A Muslim Family Story (2023) and The Banned Books Bake Sale: A Protest Story (2023). Aya holds a master's degree in Education and works as a freelance journalist, whose articles have been featured in The Huffington Post and The Christian Science Monitor, among other publications. She immigrated from Egypt to the United States when she was young and currently lives with her partner and three children in Northwest Ohio. She's also a DV Mentor 2022 and co-founder of Kidlit in Color. Find her at: ayakhalil.com.
Follow Aya Khalil:
How will Muslim children see themselves in your stories?
"I have gotten so many messages from parents and teachers about how excited kids were to see themselves in THE ARABIC QUILT, especially Arab kids. I want to continue writing stories so my kids and other Arab kids can see themselves. I love happy stories that have Arab characters as well as authentic immigrant stories. I want them to see their names and Arabic names in my books."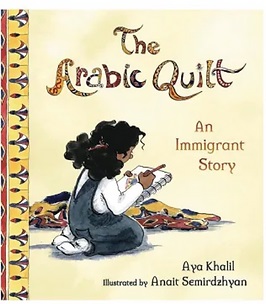 FORTHCOMING TITLES
OUR WORLD: EGYPT (Barefoot Books)
THE NIGHT BEFORE EID: A MUSLIM FAMILY STORY (Little, Brown)
THE BANNED BOOKS BAKE SALE: A PROTEST STORY (Tilbury House)
See all Storytellers in our Muslim Storytellers Fellowship Cohort.