Ask an Ambassador: Find the Workshop You Need

With over 50 workshop offerings a year that encompass a wide variety of genres and experience levels, we understand that it can feel daunting to try and choose the course that's right for you. We'd like to help you decide! To that end, we'd like to introduce you to Ambassadors Rona Shirdan, Cat Galeano and Alex Villasante. All three are active in the kidlit community and have been attendees and/or faculty at multiple Highlights Foundation workshops. Along with Jo Lloyd, our Program Coordinator, they can answer any questions you might have and help you decide which course(s) are best suited to you. Just fill out this online form and one of our Ambassadors will get in touch with you.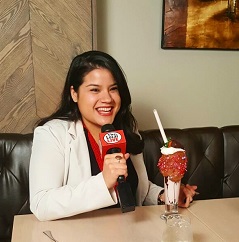 Cat Galeano
A graduate of The New School's MFA in Writing for Children and Young Adults, Cat Galeano is the Instagram wiz for The Highlights Foundation and a first generation Paraguayan American. She previously worked in tech for Behance, an Adobe website, in public relations for NBC 4 New York and Telemundo. She is currently also a freelance producer for a local public access station. When she's not posting and re-posting pics on Instagram for The Highlights Foundation, she can be found writing picture books herself with Latinx protagonists.
2018 marked Cat's first trip to the Highlights Foundation all thanks in part to a full scholarship for the Summer Camp workshop. Since then, she's been a resident assistant for several workshops such as the The Craft and Heart of Poetry and Writing Historical Fiction as well as attending many Personal Retreat weekends to get some uninterrupted writing in. Cat also runs our Instagram account and recently hosted a webinar on Instagram 101 targeted to kidlit authors. She's interested in all stories but has a special place for picture books, YA and diverse/latinx stories.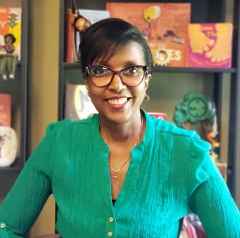 Rona Shirdan
Rona Shirdan is living her best life as a writer, freelance copy editor, and proofreader. She is the mother of two adult sons and a cat named Lola. She is a graduate of Swarthmore College, and is retired from many years in the corporate world. Rona currently serves as the Co-Regional Advisor for the Eastern Pennsylvania Chapter of SCBWI. She is an active supporter of diversity in children's literature, especially picture books, and is a volunteer with We Need Diverse Books.
When she is not engrossed in Kid Lit, she enjoys traveling with her husband, Andre. Rona lives in the Philly suburbs but would prefer the perpetual sun and palm trees of southern California.
Rona has attended many Highlights workshops, either as a student or as a Resident Assistant. Workshops she has attended include: Defining Your Voice, Master Class in Search of Voice, Nuts & Bolts of Science Writing, Middle Grade Mysteries, Writing for All Young Readers, Artists in Residency, Getting to Know Your Picture Book, Master Class in Writing Nonfiction for Children and Young Adults, Building Cultural Competency Symposium, Writing for the Educational Market, Master Class in Novel Writing, Picture Books & All That Jazz, Writing First Chapter Books and Early Readers, and the Diversity Fellowship in Children's Literature.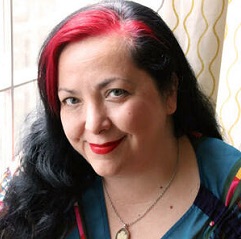 Alex Villasante
Alexandra Villasante is the online program director for the Highlights Foundation and has attended courses here as both faculty and student.
Her debut young adult novel, The Grief Keeper was an Indies Next, Indies Introduce and Fall 2019 Junior Library Guild Selection. The Grief Keeper is on ALA's Rainbow Book List 2020 and is the winner of the 2020 Lambda Literary Award for LGBTQ Children's Literature/Young Adult Fiction. Alex is a member of the Las Musas collective of children's book authors and a co-founder of the Latinx Kidlit Book Festival. She lives in the semi-wilds of Pennsylvania with her family.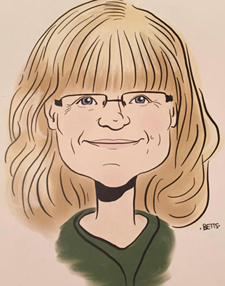 Jo Lloyd
Jo Lloyd has worked at the Highlights Foundation for decades. Her impact is directly felt in every visitor experience at the retreat center. As the Program Coordinator for the Highlights Foundation she communicates with nearly every visitor prior to their arrival, and many following their departure. When she is not in our Honesdale office, Jo can be found enjoying the great outdoors, hiking, kayaking, or cycling. Jo is an avid reader and Mahjong enthusiast.
Please contact Jo with any questions you have about the Highlights experience, including:
Travel
Accessibility
Dietary needs
Payment plans and scholarships
Deadlines for enrollment and submissions
Accommodations