Ask an Ambassador: Find the Workshop You Need
With over 50 workshop offerings a year (both online and in-person) that encompass a wide variety of genres and experience levels, we understand that it can feel daunting to try and choose the course that's right for you. We'd like to help you decide! To that end, we'd like to introduce you to our Ambassador, Rona Shirdan. Rona is very active in the kidlit community and has been an attendee and on faculty at multiple Highlights Foundation workshops. She can answer any questions you might have about:
Helping with course selection
Help for scholarship recipients in choosing a course
Deadlines for enrollment and submissions
The on campus experience

If you have already chosen a course but have questions about accessibility, technology, how to set up a payment plan, travel, accommodations or dietary needs, please use this form to contact us. Your message will be routed appropriately and one of your team members will get back to you. Thank you!
---
More About Rona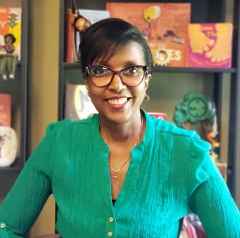 Rona Shirdan is living her best life as a writer, freelance copy editor, and proofreader. She is the mother of two adult sons and a cat named Lola. She is a graduate of Swarthmore College, and is retired from many years in the corporate world. Rona currently serves as the Co-Regional Advisor for the Eastern Pennsylvania Chapter of SCBWI. She is an active supporter of diversity in children's literature, especially picture books, and is a volunteer with We Need Diverse Books.
When she is not engrossed in Kid Lit, she enjoys traveling with her husband, Andre. Rona lives in the Philly suburbs but would prefer the perpetual sun and palm trees of southern California.