Storyteller: Andrea J. Loney
Andrea J. Loney won the 2014 Lee & Low New Voices Award and an NAACP Image Award nomination for her picture book biography TAKE A PICTURE OF ME, JAMES VAN DER ZEE!. Her picture book BUNNYBEAR was featured on the 2018 ALA Rainbow List, and DOUBLE BASS BLUES won a 2020 Caldecott Honor for illustrator Rudy Gutierrez. Her work is featured in the critically-acclaimed children's poetry anthology NO VOICE TOO SMALL: FOURTEEN YOUNG AMERICANS MAKING HISTORY. A graduate of New York University with an MFA in Dramatic Writing, Andrea teaches computer science courses at Los Angeles Trade Technical College. Andrea lives in Inglewood, California with towering stacks of children's books, her devoted family, and their incredibly spoiled pets. Learn more at andreajloney.com or follow @andreajloney on social media.
Follow Andrea J. Loney:
Andrea On Writing for Children:
"I believe that sharing a rich and diverse world of love, compassion, and joy with children will help to foster a diverse world of love, compassion, and joy when those kids grow up. Writing for kids is my personal investment in a better future for us all. Plus, it is so rewarding and fun!"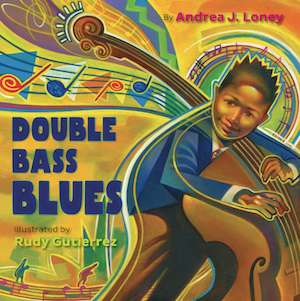 Would you like to see and purchase titles from our Storyteller cohort and members of The Brown Bookshelf?
THE LITERARY CAFE–BOOKS & EVENTS Bookstore Amplify Black Stories Book List, Curated by The African American Children's Book Project showcases a wide range of topics and talent from the Black Literary Community, including our cohort of Storytellers and members of the Brown Bookshelf. The list includes both non-fiction and fiction titles that will empower, enlighten and enrich all readers. Visit the bookstore.
See all Storytellers in the 2021 Amplify Black Stories cohort.