James Cross Giblin Scholarship Fund
"This is an incredibly generous scholarship established by an incredibly talented man. We are not only awed by Mr. Giblin's body of work and [continual] devotion to children's literature; we are also profoundly grateful for his generosity."–Kent L. Brown, Jr., Highlights Foundation Executive Director
On the opening night of our Master Class in Nonfiction last month, I sat with a few conferees. We talked about the week ahead and about the impressive faculty: biographers, poets, social justice activists, and the like. I said something like, "I love nonfiction because the topics seem endless: people, places…wood." Another woman at the table chimed in: "Windows."
Yes. Windows.
Of course in that room, that first night, at a master class in nonfiction, it wouldn't take long for someone to mention something related to Mr. James Cross Giblin. "Windows" became our opening, and we all jumped through. We talked about Mr. Giblin's Let There Be Light: A Book About Windows, which led to talks about his many other works.
James Cross Giblin wrote detailed volumes on things: forks, milk, chairs, walls, and yes, windows. And though the things seem trivial at first, Giblin had a way of making them the very foundation of our world. He also told the emotional histories of people in his biographies, gave thoughtful examinations of disease, and much more. He was a writer and respected editor working with talents like Russell Freedman, Marion Dane Bauer, and Mary Downing Hahn. At a Highlights Foundation event in 2012, I recall when Mr. Giblin was asked to talk about his success as an editor. He smiled, flicked his wrist like waving off a fly, and simply said, "Ask the right questions."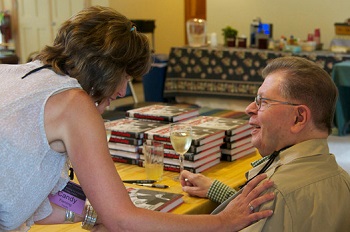 That same summer, Mr. Giblin established the James Cross Giblin Scholarship Fund, an endowed, ongoing scholarship program within the Highlights Foundation. Each year, the fund provides aid to writers, with a focus on providing funds for those who have a strong talent and passion for juvenile nonfiction. The fund also supports attendance for those working in children's publishing who have the potential to make long-term, professional contributions.
If you are interested in applying for a James Cross Giblin Scholarship for juvenile nonfiction, please visit our scholarship page.
Posted on: August 24, 2017
Tags: scholarships