Faculty Spotlight: Artist-in-Residence Kathryn Erskine
We are honored to host five Artists-in-Residency this year at the Foundation. Our Artist-in-Residency program celebrates the commitment and gifts these authors and illustrators have made to the field of children's literature.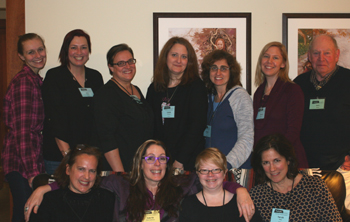 Our residency program began this year with a visit from Laurie Halse Anderson. Laurie worked alongside nine writers and met with them over meals, around campus, and in critique. In addition to Laurie Halse Anderson, this year's Artists-in-Residency include Varian Johnson, Matt de la Peña, Denise Fleming, and Kathryn Erskine.
Kathyrn Erskine is our next artist to visit the retreat center this spring. Kathy generously gives of her time as a mentor to many of our programs, including this year's Novels in Verse workshop and past years' picture book workshops, Summer Camps, and our flagship conference at the Chautauqua Institute.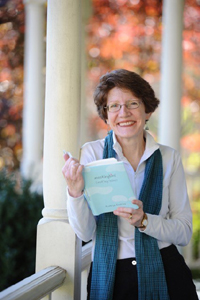 Kathy also knows the Highlights Foundation experience as a student. Kathy took the Heart of the Novel workshop with Patti Gauch, then attended our Chautauqua workshop in 2005.
"Patti Gauch, my first editor, was a fantastic mentor and taught me SO much. I still hear her voice when I'm writing or editing my work…'Go to the well…Edit with a feather…Feel the emotion…Are you crying at your keyboard?'" Kathy said.
Of her upcoming residency, Kathy said, "What a gift to have a retreat in the woods to write away, not to mention the beautifully prepared meals, gorgeous walks, and the meals (I know, I said that last part twice, but it's warranted.) And speaking of meals, I'm looking forward to chatting with other writers and hearing about their projects. Nothing gets me charged up quite like being around story makers."
Kathy will bring a young adult contemporary novel with her. "For my residency, I'm packing a manuscript that I left behind. Two picture books and two middle grade novels came between my teen road trip novel and me. Sometimes other projects must take priority, but the retreat will allow me uninterrupted time to get back in that Prius and ride the country with Shannon and Avery…and the cantankerous grandfather they've just met. It'll be kind of fun to let the snark fly. I'm eager to hear about the projects that other writers bring to the campus during my residency. Hope they come prepared to share their work, set goals, and find support at the Barn."
Ready to find support, share work, and set goals with Kathy? Register here.
---
To learn more about our Artist-in-Residency program, you can visit the following links.
2017 Artist-in-Residency Honorees
2017 Artist-in-Residency Scholarship Recipients
Rona Shirdan: My Artist-in-Residency Experience
2016 Honorees Meg Medina, Jerry Spinelli, Eileen Spinelli, and Suzanne Bloom
Artist-in-Residence Kathryn Erskine
June 9-13, 2017
Kathy Erskine is an award-winning author of books for children. Her novel Mockingbird won the 2010 National Book Award for Young People's Literature, and her other novels include The Absolute Value of Mike, a Crystal Kite winner; Seeing Red, a Jane Addams Award honor book; The Badger Knight, named to Bank Street Best Children's Books in 2014; and Quaking, an American Library Association's Best Books for Young Adults nominee. Kathy has lived all over the world, from the Netherlands—where she was born—to Israel, South Africa, Scotland, Canada, and the United States. Her life has been filled with rich experiences that she brings to the page. Kathy has two projects releasing in 2017: a nonfiction picture book about Miriam Makeba, South African civil rights activist and singer, and a novel in verse set at Monticello.
Posted on: April 21, 2017