Rona Shirdan: My Artist-in-Residency Experience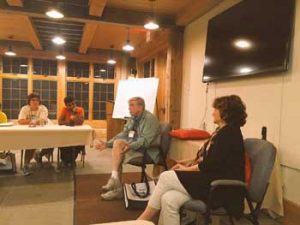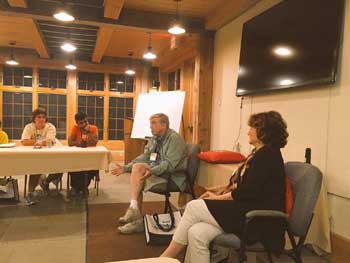 I was privileged to attend an Artists-in-Residency Unworkshop with Jerry and Eileen Spinelli. Eileen's poetry and picture books paint wonderful stories of the love and faith that flow from her kind spirit. Jerry's mastery of words weaves life lessons that stem from experiences and memories of his youth. Both authors are talented, generous with their time, and humble. The time spent with them was special.
The Artists-in-Residency program is a new Unworkshop opportunity offered by the Highlights Foundation. It combines the open schedule of a traditional Unworkshop with a mentoring opportunity. The artists selected are individuals who have made great contributions to the field of children's literature. They are generous in their willingness to share their knowledge with other authors and illustrators while working on their own projects during the five-day residency.
One thing that a writer struggles with is finding the time to write. In an Unworkshop, the time spent at Highlights is whatever you design it to be. You can work in your cozy cabin, find a private nook, or pair up with other attendees in a common area. Your schedule is your own and can fit your individual personality. The vast campus has many writing locations to choose from. Whether you write in your cabin, the barn, the loft, the porch, the living room, the lodge, the farmhouse, or the woods – the choice is yours. Go wherever you can nurture your muse.
Mealtime brings everyone together to share conversation and delicious homemade food. Everything is prepared by a skilled chef and friendly dining staff. They cater to all dietary needs and go out of their way to make sure each person is satisfied and has a wonderful experience. I guarantee that after you leave Highlights, you will have many stories to share about the delicious meals!
After dinner, all attendees gather to share their projects with one another and with the experts in residency. This time of sharing and critiquing provides valuable feedback for revisions. It also provides much-needed support and encouragement. The Artists-in-Residency also give attendees a sneak peek at their upcoming projects being tweaked for publication.
The Artists-in-Residency program is one of the most affordable offerings at the Highlights Foundation. You can work on your craft, make new friends, eat fabulous food, and meet talented mentors, all for a modest price. It is a wonderful gift to yourself and an experience well worth the money. I recommend it to every children's author and illustrator. Do it for yourself!
"Today, I will do something that makes my corner of this world just a little brighter."
– Today I Will: A Year of Quotes, Notes, and Promises to Myself by Eileen and Jerry Spinelli (2009), Knopf Books for Young Readers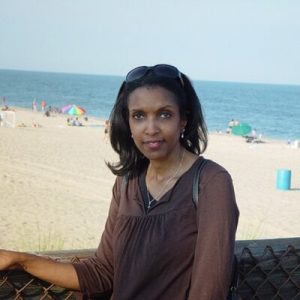 Rona Shirdan is a writer and avid reader (and lover) of children's books.
Follow Rona on Twitter 
Posted on: November 30, 2016
Tags: artists-in-residence, attendee guest post, shirdan, Testimonials, The Experience