We'd like to thank Jay Brazeau for this blog post!
I've enjoyed four poetry workshops at the Highlights Foundation.  Most were in person at the retreat center, while one was online.  No matter the format, the experiences were instructive, entertaining, challenging and continue to mold me into the poet I'm trying to become.  Here are three priceless aspects I packed to take home:
1. Connection and Community
Every single workshop offered a genuine community connection.
First, the facilitators.  When I started attending, my first thought was, "Seriously? We get to hang out with these Titans of Poetry?"
These masters of the genre are Georgia Heard and Rebecca Kai Dotlich; they're Irene Latham and Charles Waters; and I've met amazing special guests and THE BEST editors in the industry, too.  The faculty actually spends time with you and gets to know you, both during 1:1 sessions and throughout the workshop.
Second, fellow attendees. You'll make lifelong connections. My own workshop experiences have hatched critique partners, critique groups, Reunion Zooms, and friendships that have been life changing.
The gifted poet Moe Phillips, alumni of no fewer than four Craft & Heart of Poetry workshops at the Highlights Foundation, refers to it as a "sacred space;" a place for "inspiration, motivation, and learning," and I agree.
2. A Focus on Craft that Really Ignited a Spark
My first poetry workshop at the Highlights Foundation was The Craft & Heart of Writing Poetry for Children in 2018.  I took it again in 2019, and again in 2020 online.
I attend this workshop over and over again because Georgia Heard and Rebecca Kai Dotlich combine with a unique (and often hilarious) synergy.  They help us focus on the tools, forms, and techniques poets use to get to the heart of our poems.
They showed me how two words can create a spark – and how to kindle that spark into a roaring poem.  We were given loads of opportunities to create something new, with space to experiment and hone our craft both solo and in consultation with faculty and peers.
3. True Exploration of Publishing and Performance Opportunities for Children's Poets
In October 2022, I took Poetry for Kids: A World of Publishing Possibilities.  I loved that we spent time examining the industry itself – the different opportunities to publish, how books of poetry are created and curated, whether as collections or lyrical picture books.
I brought my works in progress, which benefited from Irene Latham's amazing session on revision (so much content, it was like a workshop within a workshop—seriously). And Charles Waters! Can this guy perform a poem! Charles is a professional actor, and he blended his deft skill for the stage with his notorious writing talent to teach us how to memorize, how to stand, how to use space and project to bring our poems to life.
In short, these workshops have opened my eyes and heart to what poetry can be, welcomed me into a community of poets and has given me the confidence to put my work out in the world.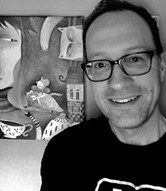 Jay Brazeau is an emerging Ottawa-based poet who resides on the outer edge of imagination – a world where cats sport houndstooth jackets, chickens sell eggs and a pigeon's pockets are packed with popcorn.  His poems have appeared in various anthologies, print and online magazines as well as in the public art project WHAT YOU'D NEVER EXPECT A BEAR TO WEAR (and Other Ironic Outfits).  You can follow him on Twitter @brazeau_jay and Instagram @theotherjaybrazeau.