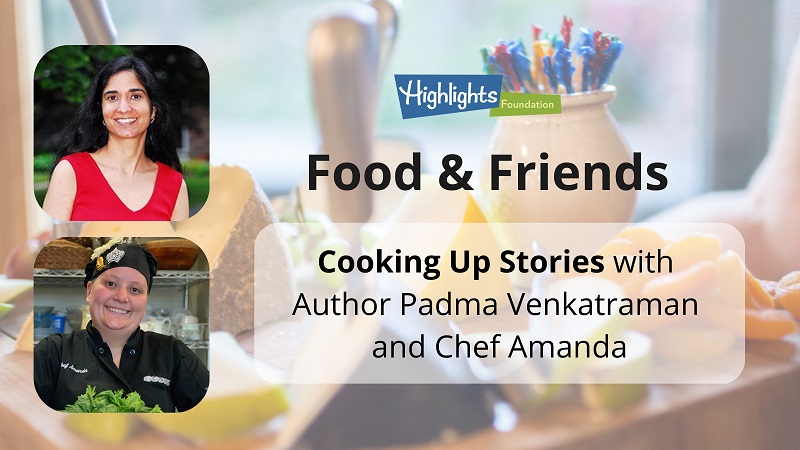 Every month, our Chef Amanda and author Padma Venkatraman pair up to share a recipe and writing prompt for our Highlights Foundation family. Padma creates the prompts based on a book from one of our Highlights Foundation faculty, and Chef Amanda shares a recipe from the kitchen at the Barn.
April 2022
Book: FOREST WORLD, written by Margarita Engle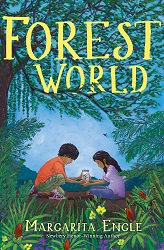 Margarita Engle is a poet whose love of nature is evident in many of her books–including Forest World, which follows the story of Edver, a Cuban-American boy who is sent to Cuba to meet his father, whom he barely knows.
To Edver's surprise, he discovers he also has a sister, Luza–who, at first seems very different from him; but the siblings soon discover a common interest–a shared appreciation for the natural world that surrounds them. When they accidentally catch the interest of a dangerous wildlife poacher, they are forced to band together and set out on an adventure to save an endangered species of butterfly that lives in their beloved Cuban jungle.
This beautiful celebration story of siblings and nature is told in multiple points of view through verse.
An excerpt from the book (page 156):
AFTER THE RAIN
Luza
Tree frogs, birdsongs,
sighing mud,
and thousands
of butterflies
puddling.
[The poem goes on to explore the relationship between Luza and Edver, ending with:]
…because together, Edver and I hold the fate
of so many fragile, fluttering lives
in our guilty hands.
---
Writing Prompt:
Spring has come to the Northern Hemisphere, bringing with it, in some cases, the beauty of spring rains. Engle's words also remind me of this beautiful refrain, from Shelly's Ode To a Skylark: "Sound of vernal showers/ On the twinkling grass…"
Write a poem that describes in detail the sights and sounds of rain – as well as the feeling that rain may inspire in you.
---
Chef Amanda is sharing a Barn recipe from Chef Karen this month!
Lemon Bars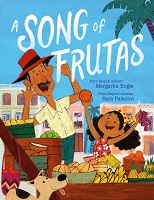 In honor of Margarita's picture book A Song of Frutas!
1/2 sheet tray
4 cups flour
1 cup cold butter
1 cup powdered sugar
8 eggs
4 cups sugar
2 1/2 tsp. baking powder
3/4 cup flour
3/4 cup fresh lemon juice
1 lemon rind grated
Mix flour, cold butter and powdered sugar in a bowl with pastry cutter or food processor. Press into greased pan building up edges, 1/2 " high on sides.
Bake approx. 7 minutes @ 350 degrees (Don't cook crust fully, it will cook more with filling.) When crust is cooked, reduce oven temperature to 325 degrees.
Beat eggs, sugar, baking powder, flour, lemon juice and rind until fluffy in mixer.
Pour over hot crust and bake 20 to 25 minutes @ 325 degrees. Check with toothpick. It should come out clean when done. Cool on counter. Sprinkle with powdered sugar before serving.
---
About the authors–and the chef!
Padma Venkatraman is the award-winning author of five novels for young people: Climbing the Stairs, Island's End, A Time to Dance, The Bridge Home, and most recently, Born Behind Bars (a companion novel to The Bridge Home). Born Behind Bars is a Parents Magazine Book of the Month book club pick and Junior Library Guild selection. It was released to starred reviews this fall, and is on Kirkus, SLJ, and other best book of the year lists. The New York Times Book Review described Venkatraman's writing as a "confidently stripped down, crystalline style…Borrowing elements of fable" and the Providence Journal called Born Behind Bars a "tale of hardship and hope, capable of making a grown person cry." in addition to her novels, Padma's poetry has been published in literary journals such as Mobius, Snowy Egret, Parnassus, The Delhi London Poetry Quarterly and most notably Poetry magazine; and she is the founder of Diverse Verse. Follow Padma on twitter (@padmatv), visit her website www.padmavenkatraman.com, or meet her on ig/fb (@venkatraman.padma).
Margarita Engle is the Cuban-American author of many verse novels, memoirs, and picture books, including The Surrender Tree, Enchanted Air, Drum Dream Girl, and Dancing Hands. Awards include a Newbery Honor, Pura Belpré, Golden Kite, Walter, Jane Addams, PEN U.S.A., and NSK Neustadt, among others. Margarita served as the national 2017-2019 Young People's Poet Laureate. Her most recent books are Your Heart, My Sky, A Song of Frutas, Light for All, Rima's Rebellion and Singing with Elephants.
Amanda Richards is the executive chef at the Highlights Foundation. Although her scholastic background is in elementary education, she has always had a love of cooking and apprenticed under chef Marcia Dunsmore here at the Retreat Center. She's a Food Network devotee and grew up watching Julia Child.