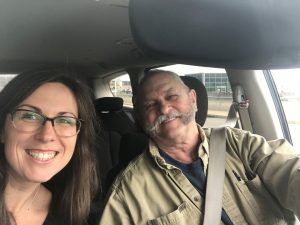 This is a snapshot of me and my new friend, Patrick. I asked him if he'd take a photo right before I stepped out of the van he was driving. We were in the Departure lane at the airport, just after my first-ever visit to the Highlights Foundation Retreat Center.
"Me? Well ok then," he said happily.
I'll get back to Patrick in a minute.
There's a lot to love about the Highlights Foundation Retreat Center. If you've been there, you probably know what I'm talking about.
If you haven't, perhaps you've got an inkling because you hear other people talk about the "magic" that happens there. And you might wonder what that magic actually looks and feels like, and if it's worth the trip.
To me, I felt the "magic" early. In fact, it started from the moment I got picked up in Scranton, PA by a Highlights Foundation driver named Mark.
It's Nice to Meet You
He arrived just a little bit early to our prescribed meeting place. He saw me, and got out of the van. "Mark?" I asked.
"Christina? It's nice to meet you."
I just couldn't believe the perfectness of the pickup, and how it had been completely orchestrated by Jo at the Highlights Foundation.
He took my bag and loaded it in the vehicle. I hopped in the front seat, and we got on the highway. We chatted about why I was there, how he started working for Highlights, and our mutual love of good carrot cake.
After a short drive, we stopped in downtown Honesdale, PA to pick up another workshop attendee from the bus station. She was ecstatic to be there, and joined right in the conversation. She spotted a wild turkey crossing the road on our way into the woods, and we talked about what else we might spot crossing the road in other areas of the country.
We pulled up to the Retreat Center, and it was indeed beautiful. In all honesty, I had expected that to be the "magic" of the Highlights Foundation experience—the setting.
The Setting *is* Magical, but It's More than That
Now, don't get me wrong. The setting is a part of it. But to me, it only served to enhance what was happening around me.
I just felt so cared for the whole time. From the comforting pickup, to the kitchen staff who clearly took pride in the delicious home-cooked meals they served, to the fellow attendees who stayed up a little too late with me in the barn living room talking about their careers, their loved ones, and the things they were passionate about.
I had three great days.
I thought my heart was full enough, and then I met Patrick.
Back to Patrick
So, back to Patrick. He'd taken time from his schedule to make a special airport run for me, since I had to leave a day earlier than the other attendees.
I'd left my bag in my room, and asked him if I should walk to get it.
"I'm happy to drive you," he said, "But if you want to shake your legs out a little before your flight, we've got time."
So I did. I took one last beautiful walk to the farmhouse. And he met me at the stairs to carry my bag.
We got in the van, and started driving. I learned so much about him during our drive; his wife had been involved with Highlights, and encouraged him to be a driver. I learned that he has his own creative side, and that he carries a sketch book everywhere he goes. I learned about his grandkids, his love for old, well-made furniture, and his plans for the future. He was just one of those people with whom genuine conversation flowed easily.
He got me to the airport early and relaxed, and I got on my flight filled with such light and appreciation for people.
So of all the things I love about the Retreat Center (and there were many), Patrick will forever be the face of that memory for me: a personal reminder of the "magic" of kindness, responsibility, encouragement, learning, and care that happens behind the scenes of Highlights Foundation workshops. I can't wait to go back.