On Thursday, September 8, 2016, the Highlights Foundation honored Meg Medina during her artist-in-residency. Details about the 2017 Meg Medina Scholarship were announced to the group on the same night. Here is a copy of the speech from the celebration, given by Alison Green Myers.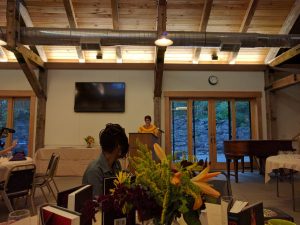 "Welcome to our new writers, joining us for the first time tonight, and to our incoming faculty, Don Tate and Carmen Oliver. Thank you all for joining the Foundation in honoring Meg Medina.
The artist-in-residency program was established to celebrate the commitment select authors and illustrators have made to the field of children's literature and to raise awareness about projects from our residents that we feel will have a lasting impact on readers of all ages.
Not long after the idea of an artist-in-residency program came into our minds at the Foundation, Meg Medina visited the property as faculty for the 2016 SCBWI Pocono Retreat. Before that visit, Meg came only once as a special guest to Rich Wallace and Kathryn Erskine's young adult novel workshop in 2012. At that workshop, Meg was new enough to the field that she made the dream feel doable, and wise enough about the field that I wrote down nearly everything she said.
When Meg returned this past April, just fresh off the launch of her latest young adult novel, Burn, Baby, Burn, her keynote left our audience in tears. We could not speak; our clapping hands would have to suffice as a thank you for all of the inspiration she'd given.
During that speech, Meg congratulated the group of writers and illustrators for investing in the dream of writing for children and recognized the grit it takes to commit to a life in the arts.
"You are moving through the world as a person who is writing a long love letter to children, and to the child you once were. This is important work. Serving children is never a wasted effort," she said. "What I'm doing, what you're doing, is all about love and kindness. It is about the breath of air that art is. Remember this: What I'm doing and what you're doing matters."
Because of Meg's commitment to this art, to our children, to all readers, to this profession, we are honored to host her at the inaugural Highlights Foundation artist-in-residency.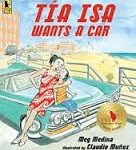 This recognition is small in comparison to the great list of awards she's garnered in her career, like the Ezra Jack Keats Book Award for Tía Isa Wants a Car.
From this award for a new writer (a voice with promise), teachers and librarians discovered Meg Medina, which in turn led to many new young fans. Of this award, Meg said, "It's easy to lose your nerve at the beginning of your career, because publishing can be a hard business. To receive an acknowledgement like this is so affirming, and it's a perfect complement to the relationship I have with my editor, Kate Fletcher. The Ezra Jack Keats Book Award will remind me to trust my instincts as a writer and see what happens."
She has terrific instincts, and followed Tía's story with Sonia's in The Girl Who Could Silence the Wind, a Bank Street College of Education Best Book. One reviewer said of The Girl Who Could Silence the Wind, "I really enjoyed this story. Part of the beauty of Medina's writing comes from not trying to make things happen but rather letting them unfold. I couldn't help but be moved by the author's light touch. Medina does a wonderful job making her characters come to life. Sonia carries the story with ease."
By 2013, we'd gotten a taste for Meg, her characters, and her sweet voice, and then she surprised us.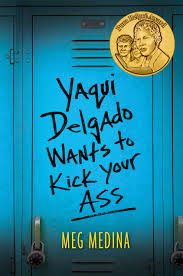 Next came Yaqui.
Yaqui Delgado Wants to Kick Your Ass went on to win:
2014 Pura Belpréé Award
International Latino Book Award for Best Young Adult Fiction
Cybils Award
Young Adult Library Services Association Best Fiction Honor
Kirkus Best Teen Books Honor
School Library Journal Best Books Honor
Association for Library Services Notable Book
Young Adult Library Services Association Top Ten Quick Pick for Reluctant Readers
NBC News Top Ten Latino Books honor
and 14 other state awards.
Meg was no longer a new voice, she was a voice you'd better stop and listen to (or she might kick your ass). The awards came for Yaqui for many reasons. You can't deny the power of an opening like this: [Read page one, chapter one.]
We are hooked on this character by page one. Meg always hooks her readers. Whether middle grade, picture book, or young adult fiction, she creates a hero to love and root for, always.
When her book Mango, Abuela, and Me hit the shelves in 2015, we again fell for Meg's hero, Mia, who must share her room with her abuela. In 32 short pages, Meg weaves together a story of shared history, family, storytelling, languages, and a parrot. We love the bridge that Meg builds from Mia to Abuela and the stories that unite them. Award committees loved them, too.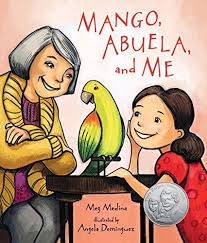 Pura Belpré Honor Medal for Literature and Illustration
Association for Library Services Notable Book
Cybils Award Finalist
Bank Street College of Education Best Book
American Booksellers Association Best Book
and many more.
And just a few months after her Pura Belpré honor was announced for Mango, Burn, Baby, Burn hit the shelves. From a touching picture book about a little girl and her grandmother to this young adult, historical fiction novel set in New York city during the summer of 1977, when the people of the city are held hostage by arson, a city-wide blackout, and a serial killer named Son of Sam who shoots young women in the streets.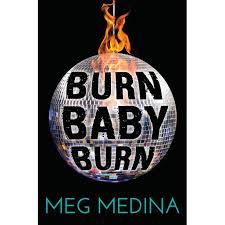 Couldn't be more different, right? At first glance, yes. I wondered, How did this story come from the same mind that gave us little Mia? But Meg is prolific that way. And the stories are connected, like all of hers, because they both tell the story of family. Of how love can bridge a divide that seems so deep. Of a girl who is smart and resourceful.
This passage illustrates our resourceful heroine, Nora, and the richness of family dynamics that Meg is so gifted in bringing to the page. [Read pages 61-64.]
Resourceful? Yes. Smart? She has to be.
I cannot yet list all of the awards that this book will win. It is a heavy medal favorite, beloved by young adults, teachers, librarians, and the ever-elusive adult reader of young adult fiction. I have no doubt it will garner tons of awards. I sat in a room this past June with a committee as they discussed at length their love for this book. It has already received the New Atlantic Independent Booksellers Association Book of the Year award.
You will all go home with a copy tonight. After you read it, please tell others about this book. About the night you met the author. About the time you saw the first ever artist-in-residency award handed out at the Highlights Foundation to Meg Medina.
Please join me in congratulating Meg on her contributions to the field of children's literature, and her commitment to writing the very best books for our children."
The evening concluded with the announcement of the 2017 Meg Medina Scholarship.