RISE-HOME STORIES: An #HFGather about activism and children's media
Our next #HFGather will be on Wednesday July 28 at 7pm Eastern.
Joining us will be friends from the RISE-HOMES STORIES PROJECT. In 2018, a group of multimedia storytellers and housing, land, and racial justice advocates came together to reimagine the past, present, and future of our communities by transforming the stories we tell about them.
Longtime organizers, advocates, writers, filmmakers, journalists, game designers, and more are working in true co-creative relationships, crafting five innovative media projects to be released in 2021, including a bilingual children's book, Alejandria Fights Back!/¡La lucha de Alejandria!.
The creative team behind the book will join us to talk about the intersections between activism and media for children. Register for the #HFGather here. (If you can't join us live, register and we'll send you a link to the recording.)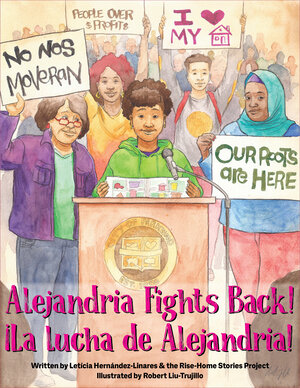 For nine-year-old Alejandria, home isn't just the apartment she shares with Mami and her abuela, Tita, but rather the whole neighborhood. Home is the bakery where Ms. Beatrice makes yummy picos; the sidewalk where Ms. Alicia sells flowers with her little dog, Duende; and the corner store with friendly Mr. Amir.
But lately the city has been changing, and rent prices are going up. Many people in el barrio are leaving because they can no longer afford their homes, and "For Sale" signs are popping up everywhere. Then the worst thing happens: Mami receives a letter saying they'll have to move out too.
Alejandria knows it isn't fair, but she's not about to give up and leave. Join Alejandria as she brings her community together to fight and save their neighborhood!
Posted on: July 15, 2021
Tags: #HFGather