Auditioning Poetry Devices for Your Verse Novel's Voice
We'd like to thank Cordelia Jensen for this blog post!
Writing Verse Novels=Uncovering, Experimenting and a Lot of Play!
Writing verse novels means tackling particular limitations but it also means uncovering, experimenting and a lot of play. It is an expansive form that can be liberating! One of the major liberations is all that poetry has to offer your verse novel. In my upcoming class for Highlights, we will take a deeper dive into many aspects of the form, but I would like to share with you today an exercise I advise all of my verse novel students to try.
Opening up the poetry toolbox and finding the precise tools you need to create a dynamic voice for your narrative style is one of the most exciting aspects of writing verse novels. If you have a POV character who is really into puzzling and equations, maybe form poetry is a great fit. If you have a carefree artistic character maybe you will experiment more with free verse, font and/or punctuation play. There are many poetic elements to consider. Before you decide how you want your character to sound, take time to audition and experiment. Here are some ideas to get you started:
Try Writing a Few Lines Using These Poetic Devices.
For your POV character/s try writing a few lines using each of these poetic devices. I provided examples from published verse novels to give you some inspiration!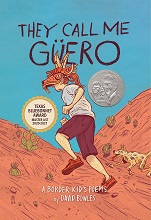 In alliteration (assonance, consonance):
Ex.
"my mind biding time hiding surviving by outsiding"
–Laurie Halse Anderson, SHOUT
"the sleepy red sun slips its way from the sky"
–David Bowles, THEY CALL ME GÜERO
Using an allusion:
Ex. "My hair is long, my height's tall.
See I'm the next Kevin Durant, LeBron and Chris Paul."
–Kwame Alexander, CROSSOVER
Using metaphor:
Ex. "She's a magnet
I am metal
resisting"
–Chris Baron, ALL OF ME
In meter:
Ex. "two years behind me, about one more to go./
There's too much I can't see. Too much I know."
–Helen Frost, KEESHA'S HOUSE (iambic pendameter, sonnet)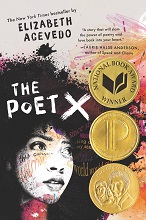 Using a refrain:
"In Aman's arms I feel warm
In Aman's arms I feel safe
In Aman's arms he apologizes
In Aman's arms I apologize…"
–Elizabeth Acevado, THE POET X
In rhyme:
Ex.
"I'd travel this nation
and be a sensation!"
— Linda Oatman High, SISTER SLAM AND THE POETIC MOTORMOUTH ROAD TRIP
In rhythm:
Ex. "I love her like my mother, like my sister, like my friend,
like I am part of them."
— Stephanie Hemphill, YOUR OWN SYLVIA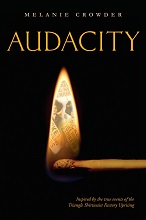 Using a simile:
Ex. "black seeds spill
like clusters of eyes,
wet and crying."
–Thanhaa Lai, INSIDE OUT & BACK AGAIN
Ex. "We wait
like rabbits
sniffing at the edge of our burrows testing the air
never sure if it is safe
to go out."
–Melanie Crowder, AUDACITY
Some Questions for Reflection
After you try these auditions, here are some reflection questions:
Read all these exercises aloud. Which devices sound like the best fit for your character/s?
Which ones didn't really work? Why?
If you have dual or multi POVs, did some work for one character over the other?
Are there places in your story that might make sense to use some of these poetry devices over others? Where?
If you liked these exercises, try these:
Try turning some of the lines above into a whole poem.
Try writing a whole form poem in your character's voice—pick your favorite—sestina? Sonnet? Haiku? Or try a few.
Try a concrete poem, where the words in your poem form a recognizable image or shape.
Try writing in free verse with special attention paid to where you break the line and how you play with white space. Try emphasizing the meaning of the poem or story/character development aspects using line breaks and white space.
Ex.
"Blue sky flight
began
with a ripple
of feathers
tickled by air
on the surface
of my dancing arms."
–LAND OF CRANES, Aida Salazar
---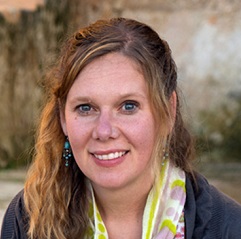 Cordelia Jensen graduated with a MFA in Writing for Children & Young Adults from Vermont College of Fine Arts in 2012. Cordelia has three verse novels: Skyscraping (Philomel/Penguin) The Way the Light Bends (Philomel/Penguin) and Every Shiny Thing (Amulet/Abrams), which she co-authored with VCFA classmate Laurie Morrison. Skyscraping was named an American Library Association's 2016 Best Book for Young Adults, A Los Angeles Public Library's Best Book for Teens and a 2016 NCTE Children's Notable Verse Novel. Every Shiny Thing was nominated for the South Carolina Junior Book Award. Cordelia has taught creative writing in a variety of settings: Bryn Mawr College, Germantown Friends School and The Writing Barn. She also runs a local kids' literary journal called the Mt. Airy Musers. Cordelia is represented by Sara Crowe of Pippin.
---
Visit our Upcoming Workshops page to find other courses from Cordelia.
Posted on: February 2, 2021
Tags: faculty guest post, jensen, novels in verse, poetry, writing tips