The Highlights Foundation Commitment to Sustainable Energy
The Highlights Foundation has a big goal: to transform the energy management of our Retreat Center and reach either net-zero or net-positive energy usage.
In December 2020 we received a grant of $116,000, with assistance from SEEDS of Northeastern Pennsylvania, to use toward our Net Zero Energy projects. This grant from the state of PA Energy Development Authority will help fund these 2021 improvements:
A 105KW solar garden on campus. This will get us pretty close to 100% sustainable energy on campus.
Spray foam insulation in the floors of 7 cabins, which currently have no insulation in the floors. This will lower our heating and cooling costs in these cabins.
Mini-split heat and air conditioning units for 23 cabins. These units will replace our aging window air conditioners, and act as the primary heat source with the current electric baseboard heat as back-up.
Energy management software: this pulls together all the automated thermostats into one energy management system for easy monitoring, reporting, and automation.
The grant builds on our previous energy improvements: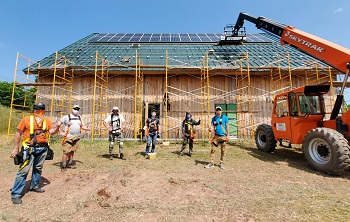 In July 2020, thanks to a gift from Kent Brown and others, we installed a 30kw solar array to help provide renewable energy on campus.
In late 2019, the Highlights Foundation began a process to automate its energy controls and monitoring through the use of smart thermostats throughout campus.
Please help support our commitment to sustainable energy:
Posted on: September 25, 2020