Watch Our Community Webinar if You Missed It, Or Ask More Questions
Our Community Webinar was lots of fun! George Brown talked about the Highlights Foundation mission and experience, Alison Green Myers previewed our fall workshops, and they both answered questions from the viewing audience.
If you missed it, you can watch it on Youtube: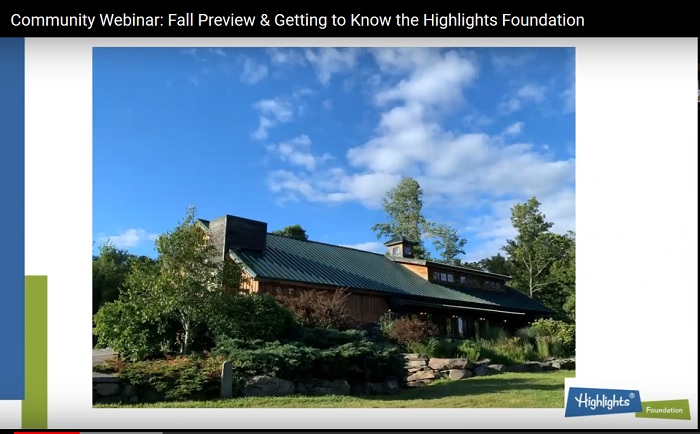 If you have questions, write us at support@highlightsfoundation.zendesk.com.
We've still got room at these fall workshops:
September 19-22
Writing for Illustrators: An Author/Illustrator Intensive
September 22-25
Nurturing Your Artistic Voice: A Guide for Kidlit Rebels and Risk-takers
September 23-November 10
Getting To Know Your Rhyming Picture Book Online Course Plus Onsite Retreat
September 25-29
Taking Your Writing & Art to New Places: Published Authors & Illustrators at Work
October 10-13
Writing for All Young Readers: Board Books through MG Series
October 13-17
The Craft and Heart of Writing Poetry for Children
October 20-23
Building Sweet & Sophisticated Contemporary Stories for Teens
October 24-27
Unlocking Your Story: Forms and Genres, A Mashup
October 27-30
Writing the Rainbow: Crafting Picture Books With LGBTQ+ Themes
Scholarships available! Apply here.
October 30-November 2
Perfecting Your Dummy: How to Amp Up Your Text, Illustration Style, Technique & Page Design for Successful Submissions
October 31-November 3
Jump-Start Your Creativity! Idea Generator for Novelists
Posted on: September 6, 2019
Tags: 2019 workshops