From the #DiversityJedi: Building the Competency
Special thanks to Edith Campbell for this blog post.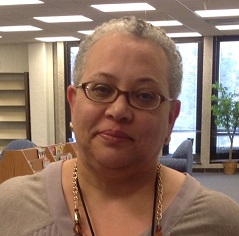 Edith is an academic librarian and scholar who tries to be an ally for all marginalized young people and works particularly to improve the representation of People of Color and Native/First Nations people. In 2019, she brought a team of changemakers to lead our symposium, Building Cultural Competency in Today's Children's Publishing Industry. Here, she and her special guests Dr. Debbie Reese, Renée Watson, Dr. Marilisa Jiménez García, Dr. Laura M. Jiménez and Paula Yoo share some thoughts about the symposium.
---
It's about getting you to hear my story.
About me having the privilege to tell my story. About creating a world that is free of oppression and fear so that I can have that privilege.
We have all lived so long hearing the echoes of our own story that I wonder how much work it will take in our everyday lives, our outside the book lives, for each of us to have the competency to hear each beyond the echo that reverberates Whiteness. Such a task can only be accomplished by those equipped and ready to challenge The Force: #DiversityJEDI.
Paula Yoo says "I look forward to having honest and productive conversations about what is actually NOT a difficult or scary topic to talk about, but actually an important and positive subject that will help enlighten all of us on our journey on understanding and embracing cultural competency and diversity in children's literature." Renée Watson perceives our workshop as a "necessary conversation".
Meaningful and intentional conversations.
This will be the first time for this cadre of #JEDI to work together. We certainly form a mutual admiration society. Renée Watson explains that "it's one thing to support each other and follow each other online, but to gather in person, to engage in dialog and really share space together feels like a powerful moment. I'm excited about the meaningful and intentional conversations that we'll have." Debbie Reese continues her thought by adding that "attendees will learn some new things but, so will I!"
Debbie is speaking of the culturally rich experience in which we'll all be immersed as we listen to expert scholars and writers, Native Americans and People of Color, speaking about children's literature through both their professional expertise and their lived experience. This is how we begin to have the competency to accept that your story is not mine, rather that this–what we're expressing here–this is our life, our story. Laura Jiménez simply requests, "Just believe us."
The #DiversityJEDI will converge at Highlights in June.
Marilisa Jimenez García reminds us that "Highlights is an important space for creators that transforms how we think about the art of writing for young people." She continues, "As we grow in our craft I hope we will also take steps toward imagining ourselves in conversation with a diverse group of young readers who we are also accountable to."
Building Cultural Competency in Today's Children's Publishing Industry: A Working Symposium will help you in your work to building your competency to hear my story so that one day soon, our stories will never separate us.

Posted on: April 25, 2019
Tags: 2019 workshops, campbell