The Power of Picture Books: Links to Literacy & Learning with the Eric Carle Museum August 2014 | August 8 – August 10
Especially beneficial for educators!
Support the development of young readers and build positive connections with books while engaging them in careful observation, evidentiary reasoning, and creative thinking. Help young readers see reading not only as a necessary life skill but also a joy—the excitement of reading for information, entertainment, and a greater understanding of self and others.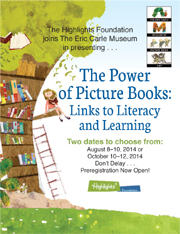 For a second year, the Highlights Foundation joins forces with The Eric Carle Museum of Picture Book Art to host an intensive literacy workshop for educators. The focus will be on providing teachers with language-rich curricula that encourage both emerging and beginning readers.
In addition to aligning with core standards, each workshop session combines sound pedagogical tools and kid-friendly activities. This workshop expands on the power of the picture book as a potent tool in the development of literacy and critical and creative thinking skills that contribute to later school success.
Learn how to inspire reading enjoyment and deepen a child's reading comprehension—all while weaving in the related ELA Common Core State Standards.
Session Topics
Visual Thinking Strategies: Teaching such critical response skills as analysis, interpretation, and evaluation of art
The Whole Book Approach: A story-time model developed at The Carle to support visual and verbal literacy. Rosemary Agoglia says: "Our professional development workshops train educators in this method, resulting in what many of them call 'a life changing experience' for their teaching."
Building Bridges between Theory and Practice: Connecting workshop sessions to curricular responsibilities, especially as they relate to Common Core
Picturing Stories: Discussing elements and principles of book design centered on award-winning illustrator Molly Bang's book Picture This: How Pictures Work
PLUS! Special Guest Speakers
This workshop builds a foundation for cross-curricular growth through literacy. We therefore recommend completing the application as a team, which might include a classroom teacher, literacy specialist (reading, language arts, English, ESL, library science), and/or visual arts teacher. Multiple teams per school are welcome.
Note: While this workshop is optimal for teaching partners, we welcome applications from all professionals interested in elementary education, including student teachers, school board members, education professors, and children's book writers.

Option to Earn 3 Graduate Credits
To increase the impact on your professional career, we offer an extended track for educators who wish to earn graduate credits for developing standards-based lessons for their classrooms. The coursework will be facilitated over an additional day at the retreat center with a lead teacher. Course requirements and tuition are $290. Participants can earn three graduate credits for attending this workshop; graduate credits for educators are provided in collaboration with Brandman University. Read more
Faculty & Special Guests
"Rosemary kept us engaged, interactive, and informed. What a dynamo! We were spoiled with excellent meals. I felt pampered, revitalized, and can't wait to share all that was given to me as together we bring the love of literature to these eager young minds."
Cynthia Czapp
Allentown, PA
"The attention was more personal than I expected, so I barely had to do any of my own coordinating!"
August 2013 Participant
"It was amazing to meet illustrators who showed us their method and understanding about the process of illustrating."
August 2013 Participant
"Great new teaching ideas, pedagogy and strategies!"
August 2013 Participant
"I learned a lot that I will be taking into my classroom this year!"
August 2013 Participant