Art Reception & Special Unworkshop with Shadra Strickland 2018 | March 15 – March 18, 2018
We're pleased to invite you to a Reception & Book Signing celebrating Shadra Strickland at the Highlights Foundation on Saturday, March 17. RSVP here.
The reception launches our 2018 Visual Arts Exhibit, which features Shadra's original art from A Child's Blessings and Prayers: From Faiths and Cultures Around the World, written by Deloris Jordan (Simon & Schuster/Paula Wiseman Books, October 2017.)
Shadra will also be Unworkshopping from March 15-18, using her time on campus to work on her latest projects. We'd like to invite you to join her–you can stay a day, a few days, or a week–it's up to you!
At an "Unworkshop," time is yours to spend as you please. No structure. No schedule. We'll provide you with comfortable lodging and three great meals a day. From the moment you arrive, you'll feel right at home and fussed over. We'll furnish a peaceful setting that lets you focus solely on your work.
Here's a look at some of Shadra's wonderful artwork–click on an image for a larger view.
About the book:
From cultures and countries near and far, this collection of more than twenty poems and prayers selected especially to share with children affirms the wonder and beauty of all things great and small in our world. Whether it be the flowers in spring, the wind and the rain, the wide sunset sky or friends and family who we hold dear, there are many reasons to give thanks for the world we live in.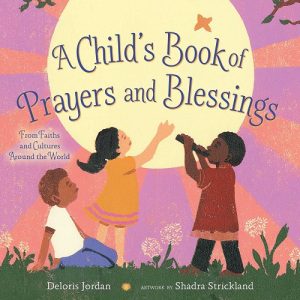 Faculty & Special Guests