Color, Light, Line, and Texture Hands-on Workshop 2017 | April 20 – April 23, 2017
A weekend of media exploration, excitement, and just plain fun!
Ashley, Denise and Suzanne are back! All-new techniques with some magic thrown into the mix! Everyone is welcome: teachers, librarians, writers, artists, and art lovers!
NO previous art experience required!
Do you believe in magic? WE DO!
Using unusual materials such as toothpaste, lotion, curtain panels, and special papers, we will create sun prints, simple silk screens, batik, pastel stencils, wax resist, negative paintings, and poured watercolors. We will work small, so everyone can complete a piece in each technique. We will discuss how these techniques can be used in book illustration along with a brief overview of book design.
Faculty blog posts:
Tour Denise Fleming's Studio
7 Reasons to Attend
Preliminary schedule: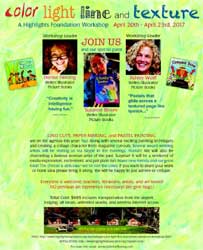 Thursday evening
Skype visit from surprise visitor
Prepare canvas for PAINT IT FORWARD
Friday morning
CHANNELING LUCY COUSINS – illustration style – Ashley
We'll force ourselves to leave picky detail in the dust by grabbing a full brush of black gouache and painting our own designs Lucy Cousins (Maisy) style. By adding vibrant solids and simple patterns along with whimsical collage elements, we'll bring our characters to life.
Friday afternoon
PULP FICTION – paper making – Denise
Tiny threads of colored fiber floating in water, poured on a screen create a picture and piece of paper at the same time. Paper making magic!
Friday evening
YOUR FUTURE TELLS OF PASTELS – Suzanne – hands-on
Pastels that glide like lipstick across a textured page yield brilliant stripes and subtle blends. Control or abandon? It's up to you.
Saturday morning Saturday afternoon
PAINT IT FORWARD – Denise – painting technique
Paint It Forward – drizzle colored inks on a canvas. Watch the colors run and merge. See what image you can find. Then paint that image forward. Spooky!
Saturday evening
Skype visit from surprise visitor
CHARACTER CUT UP – collage/drawing technique
Arrange and collage a collection of cut out noses, ears, hair, mouths, eyes, hands etc. to create a one of a kind character. A hoot! If you could bring a clothing catalog, people magazine, or fashion magazine that would be great but not necessary.
Sunday morning
Critique and sharing
Faculty & Special Guests
"Ashley & Denise are a wonderful team & I would love to attend another workshop with both of them. The balance between studio work/explanation during the day & the talks at night was just right."—2016 attendee

"I loved this workshop exploring a variety of techniques."—2016 attendee