2017 Artists-in-Residency Honoree: Denise Fleming | October 1 – October 5, 2017
Our Artists-in-Residence program celebrates the commitment these authors and illustrators have made to the field of children's literature.
Our 2017 Artists-in-Residency include Laurie Halse Anderson, Kathryn Erskine, Denise Fleming, Matt de la Peña and Varian Johnson. Each artist-in-residence will spend five days at the Highlights Foundation Retreat Center working on projects for publication. To raise awareness about these artists and their upcoming works, we invite other artists – writers, poets, and illustrators – to join them during their residency. While days will be spent on individual projects, mealtimes will bring all artists together to share farm-fresh food and conversation. After dinner, our artists-in-residence will host informal sharing and feedback sessions for all works-in-progress.
Author and illustrator Denise Fleming is our next artist to visit the retreat center for her residency. Denise generously gives of her time as a mentor to many of our programs, including Color, Light, Line, and Texture, which she hosts with Ashley Wolff, and Super Children's Book Boot Camp, which she facilitates alongside Pat Cummings and guests.
Each time Denise visits, we are grateful for her charming energy and poignant critiques as well as her spectacular, playful art and words. She embraces the child in her work with vivid colors and crisp language and guides others as they search for the art and words needed to write and illustrate for children.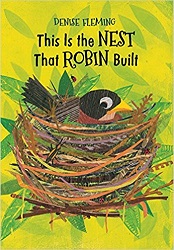 Of her upcoming residency, Denise says, "I will be working on several completed manuscripts, making them into dummies with rough sketches, and tweaking text along the way. I also will decide the design of the books–text, technique, and size–along with working on visual character design. So there will be a lot of cutting, pasting, painting, drawing, moaning, revising, and hair pulling."
There is much to see and learn from Denise's thoughtful processes. She will also have early copies of her upcoming book, This Is the Nest That Robin Built. With this new book comes a new style for Denise: printing and collage. Despite the changes, her vibrant colors and child-centered prose remain true.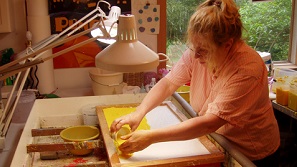 Denise invites writers and illustrators to join her at the residency. "Make a dummy, share a story, or chat about books over coffee and ice cream. We can sketch and doodle together, brainstorm characters, or take some nature reference photos. We are all in this together. Come join me."
Denise is the author/illustrator of many award-winning picture books. Fleming's books are created in her signature style of pulp painting—a paper making technique. Often the art is embellished with decorative papers, pastels, or copy transfer. Her work has received many awards, including a Boston Globe Hornbook honor, a Caldecott Honor, and the Silver Medal at the Society of Illustrators. Her books have been included on many best book lists and master lists, such as Chicago Public Library Best of the Best and CCBC Choices, along with the Oppenheimer Gold medal, among others. Her most recent book is Go, Shapes, Go!
Faculty blog posts:
Guest Post: Dylan Teut–Denise, Ducks, and Getting Dressed: An Interview with Denise Fleming
Faculty Spotlight: Take a Tour of Denise Fleming's Studio
Faculty