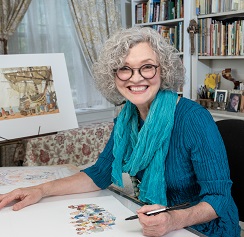 Barbara McClintock
Barbara McClintock has written and/or illustrated 47 picture books for children. Her books have received five NY Times Ten Best Illustrated Books awards, three ALA Notable Book Citations, a Boston Globe/Horn Books Honor award, and many other national and international awards and citations. Many of her titles have been translated into over a dozen languages. One of her books is a best selling title in Japan, currently in its 42nd printing. Her book The Gingerbread Man has sold over 3 million copies worldwide. Barbara's artwork is in public and private collections in the US, Japan, and Korea.
Barbara has served on the board of directors of the Eric Carle Museum of Picture Book Art, chaired the Original Art Show at the Society of Illustrators, and is currently teaching at Wesleyan University.
She is co-founder and director of STORYLINE, LLC, an elementary school literacy enrichment program in Willimantic, Ct.