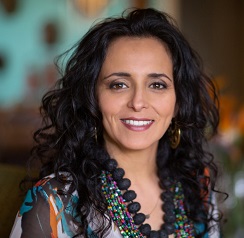 Aida Salazar is an award-winning author, arts activist, and translator whose writings for adults and children explore issues of identity and social justice. She is the author of the critically acclaimed middle grade verse novels, THE MOON WITHIN (International Latino Book Award Winner, Americas Award Honor, Golden Poppy Award) and LAND OF THE CRANES (California Librarian's Association John and Patricia Beatty Award, NCTE Charlotte Huck Award Honor, Jane Addams Peace Honor).
Her forthcoming books include the picture book anthology, IN THE SPIRIT OF A DREAM: 13 Stories of Immigrants of Color (Fall, 2021), the bio picture book JOVITA WORE PANTS: THE STORY OF A REVOLUTIONARY FIGHTER (Spring, 2022), the novel, A SEED IN THE SUN (2022), and the anthology THE GIFT: Menstruation Stories by BIPOC Authors (2022). Her translations include PAZ (Miranda & Baptiste Paul, ill. Esteli Meza), OJALA SUPIERAS (Jackie Azua Kramer, ill. Magdalena Mora), and NEVERFORGOTTEN (Alejandra Algorta, ill. Ivan Rickenmann).
Aida is a founding member of LAS MUSAS – a Latinx kidlit debut author collective. She lives with her family of artists in a teal house in Oakland, CA.