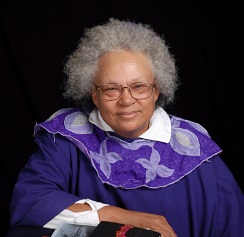 Carolivia Herron
Special Guest
Carolivia Herron is an African American Jewish author, educator and publisher living in Washington, DC. She received her Ph.D. in Comparative Literature from the University of Pennsylvania, and has held professorial appointments at Harvard University, Mount Holyoke College, California State University, Chico, the College of William and Mary, and Howard University. Currently she is an Adjunct Lecturer in Classics at Howard University. She also directs EpicCentering the National Mall, a multimedia creative writing project that guides youth of Washington, DC to create stories that interlink their own lives and neighborhoods with installations on the National Mall. Dr. Herron is also an emeritus Distinguished Visiting Scholar of Project Humanities at Arizona State University.
Carolivia's most recent publication is a musical release "Reach Out, Raise Hope, Change Society" by composer Bruce Adolphe. The words of the song, "We Are Free," are from Herron's novel, Asenath and Our Song of Songs. The musical release is part of the Milken Archive of Jewish Music. Carolivia is also a judge for the Jewish Book Council writing awards.
Carolivia's publications include her autobiographical novel, Peacesong DC, which elaborates her Jewish and African American heritage. Carolivia's other adult novels are Thereafter Johnnie and Asenath and the Origin of Nappy Hair. She is best known for her banned and bestselling children's book, Nappy Hair. Her other publications for children are Little Georgia and the Apples and Always An Olivia. Little Georgia recounts a humorous family story handed down from 1930s Washington. Always An Olivia retells Herron's Jewish heritage as told by her 103-year old Great Grandmother Olivia when Carolivia was nine years old. Carolivia's Sephardic Jewish ancestor, Sarah Shulamit, was kidnapped from Italy by Barbary pirates, was rescued by the US Marines, and ended up with West African-descended Geeches on the Georgia Sea Islands.