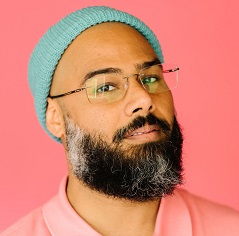 Joshua Silverstein
Joshua Reuben Silverstein is an award-winning actor, comic, writer, beatboxer, and educator. His various performances and productions throughout the country have received admiration from creative geniuses ranging from Norman Lear to Prince.
Beatboxing since the age of 5, Joshua has become the West Coast's most sought-after beatboxer, named by the Jewish News Service as "one of the best beatboxers in the world." His various collaborations with artists such as Slash from Guns and Roses, poetic icon Ursula Rucker and Improv legend Wayne Brady have earned him the title of "the hardest-working performer in L.A."
The first beatboxer to be featured regularly dropping beats on network television, Joshua performs for The Late Late Show with James Corden on the segment Drop The Mic and the stand-alone, half-hour TNT/TBS series by the same name, which can now be seen on the web.
His solo show, "The Joshua Silverstein Show," received rave reviews during its preview at the Greenway Court Theater in Los Angeles in 2014 and when it ran at the Bootleg Theater in Los Angeles in 2016. That version, titled "Tell Me I'm Pretty" (directed by Diana Wyenn) included a a three-piece band accompanying Joshua as he playfully wove through personal narratives pertaining to race and gender constructs in America. Using devices including pantomime, beatboxing, rapping, and spoken word, Joshua created a show that continues to inspire, challenge, provoke and motivate.
As an educator, Joshua has facilitated uncountable theater, improvisation and spoken word workshops, as well as in-school residencies, all designed to create a safe and open space where students of all ages indulge in the freedom of creative expression.
Joshua can be found during the school year as the co-host and co-producer of Emmy award-winning Downbeat 720, a high school open-mic that has been a staple of Santa Monica for the last 19 years. You can currently catch Joshua every morning on Instagram (@TheJoshuaSilverstein), bringing you the news in a digestible fashion during the 2020 Corona Virus Quarantine.
He is an original member of Norman Lear's DECLARE YOURSELF ROAD TRIP SHOW, a 3-year spoken-word/musical performance tour encouraging the American people to register to vote.