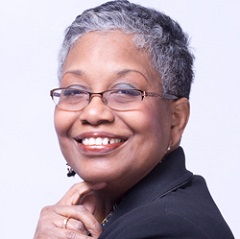 Cheryl Willis Hudson
Cheryl Willis Hudson is editorial director of Just Us Books, Inc., an independent publishing company that focuses on Black interest books for children and young adults. She and her husband Wade Hudson, founded Just Us Books in 1988 to address the need for more African American children's books in the market place.
Ms. Hudson has authored many books for young children including AFRO-BETS ABC and 123 Books, Hands Can, Good Morning, Baby, Glo Goes Shopping, Many Colors of Mother Goose and Bright Eyes, Brown Skin, (co-authored with Bernette Ford), Construction Zone, My Friend Maya Loves to Dance, and From Where I Stand in the City.  She has also co-edited a number of titles including How Sweet the Sound: African American Songs for Children and Kids' Book of Wisdom: Quotes from the African American Tradition and In Praise of Our Fathers and Our Mothers.
In 2003 Ms. Hudson was inducted into the International Literary Hall of Fame for Writers of African Descent. She is a frequent speaker on the topic of diversity in literature and has served as an parenting expert for ClubMom. She is also a member of PEN America's Children Book Committee.