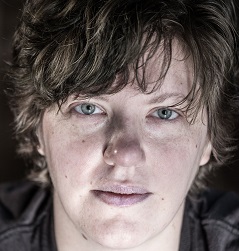 Phoebe North
Phoebe North, a graduate of the University of Florida's MFA program in poetry, is the critically acclaimed author of Starglass and Starbreak. A new novel will be forthcoming from HarperCollins/Balzer + Bray in 2020.
North was a finalist in 2018 with the Sustainable Arts Foundation. Other short fiction, critical work, and poetry has appeared or is forthcoming with Analog, Daily Science Fiction, Flash Fiction Magazine, the YA Review Network, Umbrella Journal, District Lit, 2river View and Strange Horizons (among others), and in anthologies such as the 2015 Young Explorer's Adventure Guide, Among the Shadows and Speculative Fiction 2015. North was named a 2013 Flying Start from Publisher's Weekly.
Writing from a home in the Hudson Valley, they also enjoy gardening, spending time with family, listening to obscure music on outdated formats, and fighting off the fear of death by curating an astonishingly comprehensive social media presence. Find North online at phoebenorth.com.