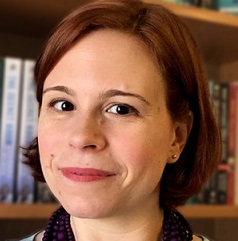 Rachel Ekstrom
SKYPE Guest
Rachel Ekstrom has channeled her passion for reading into a fifteen-year publishing career. She is an agent at Folio Junior Literary, and before that she held managerial and directorial roles at Penguin and St. Martin's Press, helping debut and #1 bestselling authors promote their books. She loves working with writers every step of the way–from finding new talent, selling great stories to the right publisher, and helping authors build a passionate audience of readers throughout their careers.
What she's looking for:
In Middle Grade and Young Adult, I'm looking for polished, voice-driven projects in any genre, including YA and MG nonfiction.
I'm looking for novels that can be conversation–starters, or better yet–conversation changers, but still manage to captivate and entertain readers. I particularly love themes of nature/wilderness, animals, and characters who challenge the status quo. I cherish characters and stories that make me laugh, or cry (preferably both)—such as Symptoms of Being Human by Jeff Garvin (which was named an ALA Best Fiction for Young Adults Selection and a Lambda Literary Award Finalist).