Support the Diversity Fellowship in Children's Literature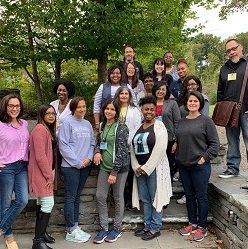 The Highlights Foundation Diversity Fellowship in Children's Literature is a 24-month professional development and mentorship program for people of color and Indigenous authors or illustrators who are actively pursuing publication within the children's publishing industry. Find out more here.
We'd like to give a special "thank you" to SCBWI and Charlesbridge Publishing, who have both donated in support of our Diversity Fellowship.
We invite you to support our mission to increase diverse narratives in children's literature. Did you know that only 7% of children's books published last year were written or illustrated by people of color? Your donation helps us to provide resources, professional development, and mentorship for authors and illustrators of color who are passionate and committed to creating multicultural content that would enrich and diversify today's children's literature.