A Master Class: Creating the Moment That Transcends – Climax,Complication, and Going Far Enough 2018
November 8 - 11, 2018
A MASTER CLASS; CREATING THE MOMENT THAT TRANSCENDS – CLIMAX, COMPLICATION, AND GOING FAR ENOUGH 2018 | NOVEMBER 8 – NOVEMBER 11, 2018
An intense study into building scenes with emotional impacts for your readers.
The novel is first a story with a beginning, a middle, and an end. But the story of a novel is not simply told. A novelist wants his or her novel to spring to life, to engage characters so memorable they are not forgotten, to create experience so true it feels like life itself, to touch emotions in moments so powerful, they transcend. But how, as authors, do we capture those moments? Using the literature of authors who are extraordinary at the transcendence of pivotal moments (Jerry Spinelli, Kate DiCamillo, Jandy Nelson, and Phillip Pullman among them), writers will plumb the own "rag and bone shops of their hearts" (Yeats) for words and emotions and insights, to "go far enough" to win that transcendence.
This workshop, led by Patti Gauch, is a heroic journey into the power of story.
Please note:
This workshop requires an application.
This workshop begins early on November 8 with lunch and lecture at noon, and ends after lunch on November 11.
Faculty & Special Guests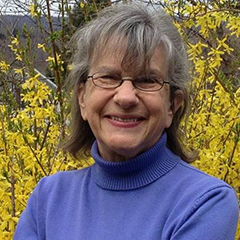 Former vice president and editor at large of Philomel Books, Patti is now a fulltime writer and lecturer. She has…
Learn more
All-Inclusive Event Cost: $1,499.00
All-inclusive means we provide transportation to and from the airport, lodging and all meals.
workshop information
Begins at 12 p.m. on Thursday, November 8, with lunch; ends on Sunday, November 11, with lunch.