Advanced Picture Book Revision Techniques: A Two-Night Mini
December 12 - 14, 2022
OVERVIEW:
Join prolific picture book author Sudipta Bardhan-Quallen for this short course to advance your picture book manuscript and satisfy the most discerning readers in the market!
A Two-Night Mini Online Course
Monday, December 12, 2022 (7pm – 8:15pm Eastern)
Wednesday, December 14, 2022 (7pm – 8:15pm Eastern)
Webinar-style program with closed captioning available and limited interaction in the chat
FEEDBACK EXPECTED:
None included. There will be limited interaction in the chat feature of the webinar-style program.
WHY THIS WORKSHOP?
Picture book readers are a sophisticated bunch! They want the very best stories to dive into again and again. How can writers deepen their work to meet the expectations of readers and publishers, alike? Revise. Revise. Revise.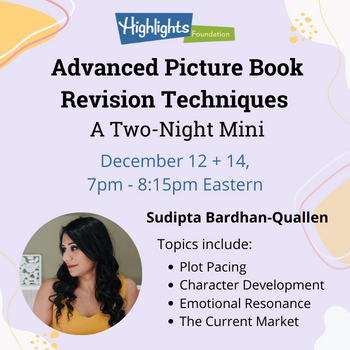 This interactive workshop will discuss advanced techniques to revise your drafts to perfection.
Topics include:
improving the pacing of the plot, 
enhancing the character development,
elevating the overall emotional resonance
the state of the current market.
THIS MINI IS A GREAT FIT IF:
You have written a picture book (or twenty) and want to amp up the plot and emotion in the narrative. This course will give you advanced revision tools to deepen your work.
You have written a picture book (or two hundred) and want to develop your characters fully. This course will look at character development, consistency, and agency.
You're looking for a picture book workshop with a minimal time commitment. This mini course will let you keep developing craft skills without investing a lot of time, and help you pinpoint areas where you may want to invest more time when it comes to picture book revision.
You're looking for something short, sweet, and smart. This is not a full workshop; it is two, 75-minute session with limited engagement meant to provide advanced picture book revision strategies.
TENTATIVE AGENDA:
Night One: Monday, December 12, 2022 (7pm-8:15pm Eastern)
Plotting and pacing
Logical arcs
Character development and consistency
Archetypes in PBs
Cultivating your character's agency
Night Two: Wednesday, December 14 (7pm-8:15pm Eastern)
Emotional resonance
Layering themes within a plot
Logic in emotional journeys
Fostering connection with the reader
Current market trends
Q&A
Please note:
If you're unable for any reason to attend either session, you'll have access to the recordings (with closed captioning) through January 31, 2023.
HOW IT IMPACTS KIDS:
Picture books are a meaningful experience for young readers and listeners. With the revision tools learned in this course, you will be able to present your readers with the best version possible of your story.
Why do we mention this? Learn about the Highlights Foundation mission.
RELATED RESOURCES:
FROM OUR COMMUNITY:
"Sudipta is chatty, funny, and no-nonsense."
"Sudipta taught with great energy, practical advice, and contagious humor."
"Sudipta provided a wealth of information in the coursework and was very generous with her time… She knows her stuff!"
"Sudipta Bardhan-Quallen did a fabulous job teaching, introducing concepts, answering questions, and making everyone feel welcome."
TWO PB REVISION COURSES:
We have two choices of picture book revision mini-courses this season! Which is right for you?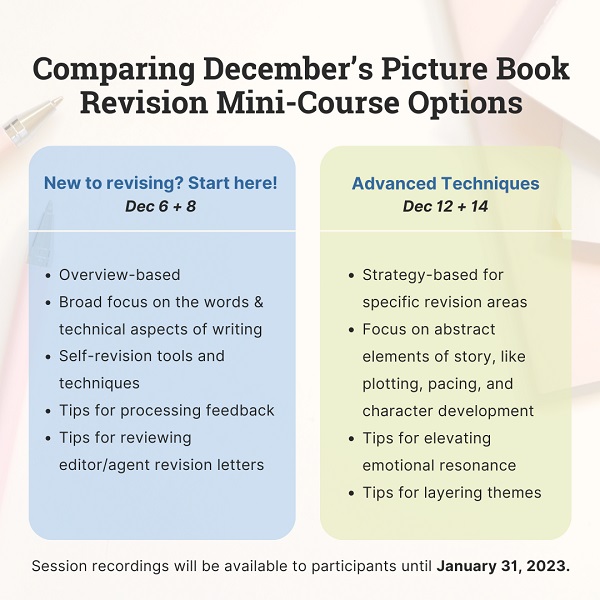 Find out more about the Picture Book Revision Mini-Course here.
Faculty & Special Guests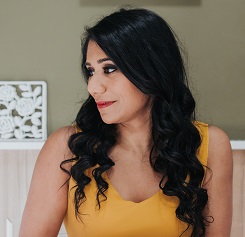 Sudipta Bardhan-Quallen is an award-winning children's book author whose books include Chicks Rule, The United States vs. Jackie Robinson (2019…
Learn more