Rebecca Dykes Memorial Workshop: Writing to Empower
November 3 - 7, 2022
OVERVIEW:
In partnership with the Rebecca Dykes Writers, this program has been thoughtfully formed to offer a safe environment for writers to gather and find ways to express themselves through stories that empower survivors of gender-based trauma, and explore the effects of violence on our communities as a whole.
If this is an area of writing that you are looking to approach respectfully and responsibly–while centering your child and teen readers–we invite you to apply for five days of inspiration, meditation, mentorship, and creativity on the beautiful campus of the Highlights Foundation.
This is an in-person workshop at the Highlights Foundation Retreat Center with a supportive faculty (including mental health professionals) and ample time for independent writing, meeting informally with fellow creatives, and resting.
Your application into the course is not talent based. The application is to ensure that your goals for the course align with what we are able to provide in a non-clinical setting. (Application details below.)
Arrive by 5:30 pm Eastern on Thursday, November 3, 2022
Departure at 1:00pm Eastern on Monday, November 7, 2022
Program price: $1499; Lodging and meals are included.
16 writers max
Application Deadline: on or before August 26, 2022. 
You will be notified of your acceptance status no later than September 15. Upon acceptance, you will be asked to register and pay (deposit, payment plan set-up, or full) to join the course. Two full scholarships will be awarded to the program.
FEEDBACK EXPECTED:
A 1:1 on-campus consultation with one of our experienced faculty members;
A facilitated small group discussion will take place on three afternoons to share sample pages, offer questions about revisions, and bring ideas for moving your work forward;
Informal feedback will also be offered via optional sharing opportunities during creative exercises.
WHY THIS PROGRAM?
This five day, in-person program offers support, growth, and story development that centers the work on empowering our readers.  Rebecca Dykes Writers seek ways to engage communities in respectful and responsible dialogue about gender-based violence that has overwhelmingly impacted female-identifying persons. Rebecca Dykes Writers is dedicated to providing resources and support for writers wishing to help young people navigate their experiences, questions, and concerns about gender-based violence.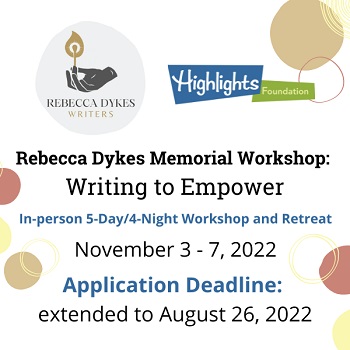 The program includes:
a diverse array of engaging writing presentations by faculty experienced in child-centered storytelling
opportunities for group discussion and 1:1 consultations
introductory activities to establish safety protocols, provide story/sharing content warnings, and details about connecting with our on-site support staff
ample self-paced time to make progress on a project, and retreat on the Highlights Foundation's grounds
With a thoughtful and open approach to instruction, we will address ways to avoid re-traumatizing both readers and the writers who do the work. Creatives will discuss how to talk to parents, schools, librarians, and others about gender-based violence, and the need for more stories to be available for our kids and teens.
Mornings will be structured around lectures and small group work. Afternoons will be for independent writing and revising, and meetings with fellow creatives.
We encourage you to apply for this program if:
You are a writer in any genre, interested in creating stories that explore empowering children and teens specifically in the area of gender-based violence.
You are comfortable working in a collaborative setting while crafting sensitive stories.
You are aware that the program will take place at a writing retreat center, not in a clinical environment.
DETAILED AGENDA:
Following Acceptance: 
You will receive a link to pay for your course. (Please note that two full scholarships will be given.)
Within 10 days of the program, you will receive a link to our virtual classroom where you can introduce yourself to fellow writers, and engage in Highlights Foundation and Rebecca Dykes Writers-related resources (including Community Standards).
Tentative Program Schedule:
Please bring projects at any stage in the writing process that you wish (idea, draft, revision, etc.). You will have time to meet and share work in small groups and 1:1 with a faculty member, plus ample time to work independently.
Thursday, November 3, 2022
3pm – 5pm Eastern: Arrival (Please meet our program TA and our support staff)
5:30pm: Appetizers followed by dinner
7:30pm: Opening session (Welcomes & How to Support One Another this Weekend, followed by informal fireside chat)
Friday, November 4, 2022
Morning:
Breakfast
Opening Meditation/Forest Walk
Presentation #1
1:1 meetings (with faculty and support staff)
Afternoon:
Lunch
Free writing time and informal activities
Small group meeting
Evening:
Appetizers & Dinner
After Dinner: Informal gathering
Saturday, November 5, 2022
Morning:
Breakfast
Meditation/Forest Walk
Presentation #2
Small group meeting
Afternoon:
Lunch
Free writing time and informal activities
Panel: Talking with and in schools
Evening:
Appetizers & Dinner
After Dinner: Guest speaker, Jane Houng (mother of Rebecca Dykes)
Sunday, November 6, 2022
Morning:
Breakfast
Meditation/Forest Walk
Presentation #3
Small group meeting
Afternoon:
Lunch
Free writing time and informal activities
Evening:
Appetizers & Dinner, in private lodge
After Dinner: Sharing
Monday, November 7
Morning
Breakfast
Packing
Closing keynote
Followed by reflections from attendees
Afternoon
Note: Breakout topics and lectures are still being developed by faculty.
A note about workshop agendas and how they change and evolve. 
ABOUT OUR RETREAT CENTER:
All in-person Highlights Foundation workshops (including this special partnership) are held at our Retreat Center: The Barn at Boyds Mills.  This site was the home of the original founders of Highlights for Children Garry and Caroline Myers, and is located in the Poconos Mountains of Pennsylvania on the traditional and contemporary lands of the Lenape Nation. For more information about attending a workshop or retreat here, visit the Barn at Boyds Mills website.
COMMITMENT REQUIRED FOR THE BEST EXPERIENCE:
As an in-person event at our Retreat Center, you'll have a chance to step away from everyday life to experience the program. We build in breaks and independent time so you have space for your personal needs. While we encourage participation in all group events, we know that as an adult learner you can decide if you need more time to yourself. Please let someone from our staff or faculty know if you plan to step away from group activities.
The Highlights Foundation strives for a safe and inclusive environment. You will have access to our Community Standards prior to the workshop where we ask for your respectful engagement with fellow creatives, including our faculty and staff.
Application Deadline: on or before August 26, 2022. 
You will be notified of your acceptance status no later than September 15. Upon acceptance, you will be asked to register and pay (deposit or full) to join the course.
To apply, you will need to provide narrative responses detailing your workshop goals and your interest in this program.
ABOUT Rebecca Dykes and the Rebecca Dykes Writers:
What happens when a writer loses her daughter to violence?
She tells the story.
If you have been affected by femicide or gender-based violence, she wants to help you tell your story too.
Jane Houng, mother of Rebecca "Becky" Dykes, is the founder of Rebecca Dykes Writers, an organization aimed at ending femicide one word at a time.
Since the death of her daughter in December 2017, Jane has dedicated her life to Becky's humanitarian legacy.
Since Becky's death, Jane has collaborated with women from all over the world in efforts to support the most vulnerable population on the globe: underserved women and girls who are most at risk for experiencing violence.
Jane founded Becky's Bathhouse, a wellness center and shower facility serving refugee women and children in residing in Mavrovouni refugee camp on the Greek Island of Lesvos. Over the past three years, Becky's Bathhouse has served more than 15,000 refugee women and children, from over a dozen countries.
Her current projects are in response to UN Women's call for making a global collective effort to fight for VAWG, focusing on prevention and collection of data that can improve services for women and girls.
For Jane, the most powerful aspect of carrying on Becky's legacy is hearing the stories of women who have survived gender-based violence, and connecting with families who have lost loved ones through violence. As a storyteller herself, she knew that the best way to fight violence against women is to tell stories.
Becky herself had posted the words "me too" on her Facebook page, just two months prior to being raped and murdered by her taxi driver in Lebanon. Since Becky can no longer tell her story, or explain her "me too," Jane will do it for her. And she wants to help others too.
Jane is committed to fighting femicide by using her words, storytelling, and every available resource at her disposal to tell her daughter's story and help others tell their stories of gender-based violence.
Faculty announcement to come.