Image Systems in Verse Novels: A Two Night Mini
July 19 - 20, 2022
OVERVIEW:
A Two-Night Mini Online Course
Join verse novelist Cordelia Jensen to gain an understanding of image systems, and discover ways to infuse these extended metaphors into your work.
This program is a great fit if you're looking for a short course of two, 75-minute sessions offering limited interaction with the community, but loads of information.
Tuesday, July 19 (7pm – 8:15pm EST)
Wednesday, July 20 (7pm – 8:15pm EST)
Webinar-style program with closed captioning available and limited interaction in the chat
A note for prose novelists interested in this course:
Image systems also work in prose novels. There are many examples of beautiful prose novels with image systems in them.
Prose novelists are welcome to take this mini course, too. However, please note that Cordelia's expertise is verse novels, and therefore all examples and content in this mini course will center verse novels. You could then apply general concepts learned about image systems to your prose novel in whatever ways work for you.
FEEDBACK EXPECTED:
None is included in the course. There will be limited interaction in the chat feature of the webinar-style program.
WHY THIS WORKSHOP?
The term "image system" originally comes from filmmakers.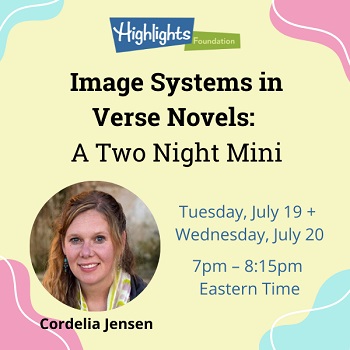 From NY Film Academy: "An image system is an image or a motif that is repeated during a film."
So what does this have to do with your verse novel?
An image system is the family of images (metaphors, similes, symbols, etc.) an author chooses to showcase in their verse novel. An image system–by use of extended metaphors–can show how characters emotionally grow and change through the course of a story. They also can work to build story tension, foreshadow events, develop secondary characters, inspire characters to action, illuminate setting, and reflect a story question or theme.
This course will help you build your own image system that consistently brings out the core idea of your novel in verse. You will:
Learn key considerations in image system development, including balancing story with poetry.
Consider story components: setting & time period, main character's developmental stage of life, passion/hobby/viewpoint.
Work with figurative language, beyond the metaphor & simile.
Review sample image systems from contemporary verse novels.
Explore exercises and prompts designed to help you consider which poetic and story conventions to employ.
IT'S A GREAT FIT IF:
You have an idea or in-progress draft of a middle grade or young adult novel in verse. An image system is something to try when you are either first starting a verse novel, or revising one that isn't quite working.
You're a novelist interested in experimenting with new writing techniques. Understanding extended metaphor can help carry a verse novel, and can benefit all novelists as they bring deeper meaning to their stories.
You're looking for something short, sweet, and smart! This is not a full workshop; these are short sessions meant to build your understanding of ways to develop an image system for your novel.
TENTATIVE AGENDA:
At registration: You will receive a Zoom link to use each night of the course.
Part One: Tuesday, July 19, 2022 (7pm-8:15pm Eastern)
Welcome
What is an image system?
Dissecting the image system's role in highlighted verse novels.
Figurative language, beyond the metaphor & simile, and miscellaneous poetry tips.
Suggested verse novels to read.
Q & A
Part Two: Wednesday, July 20 (7pm-8:15pm EST)
Creating your own image system: looking at story & character components to find imagery that works.
Generative writing exercises woven throughout, with one final exercise.
Q & A
COMMITMENT REQUIRED FOR THE BEST EXPERIENCE:
If you're unable to attend either session for any reason, you'll have access to the recordings (with closed captioning) through August 31, 2022.
The Highlights Foundation strives for a safe and inclusive environment. You will have access to our Community Standards during the webinar where we ask for your respectful engagement with fellow creatives, including our faculty and staff.
HOW THIS PROGRAM IMPACTS KIDS:
Verse novels can provide a powerful emotional experience for young readers. This mini-workshop will help you strengthen yours, by showing you how to incorporate various components into a powerful image system that supports the core idea of your novel.
Why do we mention this? Learn about the Highlights Foundation mission.
RELATED RESOURCES:
The Verse Novel: If I Can Do It, So Can You, by Kathryn Erskine
Imagining an Image System for Your Novel in Verse
Diverse Verse website, founded by Padma Venkatraman
Auditioning Poetry Devices for Your Verse Novel's Voice
FROM OUR COMMUNITY:
"I really appreciated the [mini] format as a whole, the information, and the slides. I can't wait to put this to good use."
"Cordelia was an excellent teacher and shared above and beyond and made the whole class experience worthwhile and informative."
"Cordelia shared an amazing amount of information. There is so little available on Free Verse and I was thrilled to be part of this class."
"I came into the course with very little knowledge about actually writing a verse novel and employing an image system. I left with a world of information."
Faculty & Special Guests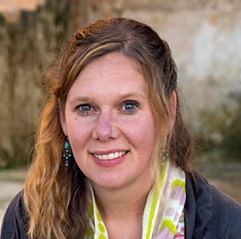 Cordelia Jensen graduated with a MFA in Writing for Children & Young Adults from Vermont College of Fine Arts in…
Learn more