Novel Writing with Patricia Lee Gauch
October 9 - 15, 2022
Please note that this workshop is waitlisted. Please add your name to the waitlist if you would like to be notified if an opportunity becomes available to take this program.
Join Us To:
Move your novel to the next level working one-to-one with editor Patricia Lee Gauch.
What You'll Learn:
Writing a novel is, like many of life's challenges, a journey, through ideas, through beginnings and middles and ends. In this workshop, writers become a writing community, writing, each at their own pace, and sharing and celebrating the right word, the right moments, the right character with Patricia Lee Gauch, longtime editor of Philomel Books and Highlights Foundation faculty. Morning prompts lead to surprising breakthroughs, and one-to-one sessions with Patti give writers the opportunity to rise to their best writing selves.
Attend If:
You are an intermediate to advanced writer of middle grade and young adult novels.
You have a finished, or nearly-finished, work-in-progress. You'll benefit from close mentoring and generous free writing time.
You are an alum of one of Patti's many writing workshops.
Agenda
Days begin with morning writing prompts and the opportunity to explore new and original writing techniques, followed by generous writing time, whole workshop sessions, and one-to-one sessions with Patti.
Nightly sharing sessions will round out the day as participants offer informal feedback and create community.
ABOUT OUR RETREAT CENTER:
All in-person Highlights Foundation workshops (including this one) are held at our Retreat Center: The Barn at Boyds Mills.  This site was the home of the original founders of Highlights for Children Garry and Caroline Myers, and is located in the Poconos Mountains of Pennsylvania on the traditional and contemporary lands of the Lenape Nation.
Your workshop tuition includes lodging, farm-fresh meals with snacks, and shuttle service from our local airport or bus/train stations if you need it.  For more information about attending a workshop or retreat here, visit the Barn at Boyds Mills website.
HOW THIS WORKSHOP IMPACTS KIDS:
As a serious writer of stories for children, your work has an eminent impact on the lives of children. With Patricia Lee Gauch's support and generosity you will find ways to expand the creativity you bring to the page for future readers.
Why do we mention this? Learn about the Highlights Foundation mission. 
COMMITMENT REQUIRED FOR THE BEST EXPERIENCE:
As an in-person event at our Retreat Center, you'll have a chance to step away from everyday life to experience the workshop. This program has a good amount of independent time so you have space for your personal needs. While we encourage participation in all group events, we know that as an adult learner you can decide if you need more time to yourself. Please let someone from our staff or faculty know if you plan to step away from group activities.
The Highlights Foundation strives for a safe and inclusive environment. You will have access to our Community Standards prior to the workshop where we ask for your respectful engagement with fellow creatives, including our faculty and staff.
Read some ideas about planning for the right level of commitment.
Testimonials
"Patti truly is incomparable. I've been working on honing my writing for 20+ years. I've had the good fortune of working with [many editors.] Nobody comes close to Patti."
"Patti Gauch is that rare combination of someone who can inspire deeply while instructing rigorously. She gave us the tools we needed to create transcendent moments, opportunities to do so, and insightful feedback that was honest and helpful. She challenged us as writers while protecting our spirits and gifts."
Faculty & Special Guests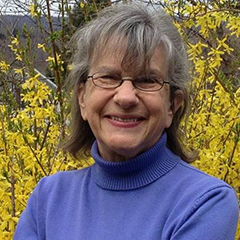 Former vice president and editor at large of Philomel Books, Patti is now a fulltime writer and lecturer. She has…
Learn more