Intro to Writing Short Fiction: A Two-Night Mini for MG & YA Authors
May 24 - 26, 2022
OVERVIEW:
A Two-Night Mini Online Course
Join authors Nora Shalaway Carpenter and Rob Costello to learn about the form, opportunity, and style of writing short fiction for kids and teens.
This program is a great fit if you're looking for a short course of two, 75-minute sessions offering limited interaction with the community, but loads of information.
Tuesday, May 24 (7pm – 8:15pm EST)
Thursday, May 26 (7pm – 8:15pm EST)
Webinar-style program with closed captioning available and limited interaction in the chat
Optional post-course critique opportunity available for an additional cost (details below.)
FEEDBACK EXPECTED:
None is included in the course. There will be limited interaction in the chat feature of the webinar-style program.
An optional, post-course critique opportunity is available for $100 for a short story (no more than 10 pages); includes written feedback provided within 4 – 6 weeks of submission. Details will be released during the final night of the course.
WHY THIS WORKSHOP?
Short fiction is an important and vibrant form of creative writing.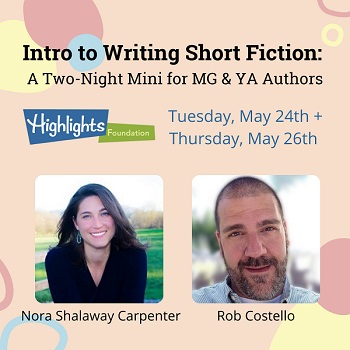 For new writers, short stories offer a way to express the basics of storytelling and develop the skills essential to crafting publishable fiction.
For more experienced writers, short stories present an exciting and enjoyable medium for play and experimentation.
For all writers, they offer a different pathway to publication via the numerous short fiction markets that exist online and in print.
Topics we'll explore include:
The short fiction form: what makes a short story different from a novel?
Pacing & tension in the short form
Reader expectations: meeting and breaking
Internal vs. external tension as stakes
Short fiction markets for young readers
Exercises and prompts designed to elicit new story ideas and revise existing stories
IT'S A GREAT FIT IF:
You're a novelist interested in experimenting with new forms, voice, and writing techniques. Tackle different ways of writing without having to commit to using them for an entire novel.
You have an idea for a short story but don't know how to start. Writing prompts will help generate ideas and get those creative juices flowing, while live lectures detail the ins and outs of how to make your short story the best it can be.
You're looking for something short, sweet, and smart! This is not a full workshop; they are short sessions meant to spark short story ideas and experimentation.
TENTATIVE AGENDA:
At registration: You will receive a Zoom link to use each night of the course.
Part One: Tuesday, May 24, 2022 (7pm-8:15pm Eastern)
Welcome
What makes for a good short story?
Why write them?
How do stories for young readers differ from those targeting adults?
Generative writing exercises
Mentor texts to read
Part Two: Thursday, May 26, 2022 (7pm-8:15pm EST)
Effective beginnings & endings
Examining mentor texts
Writing exercises for revision
Where to publish short fiction & how to submit
Resources for further study
Q & A
Optional Post-Course Critique: A limited number of short story critiques (10 pages max) are available. The critique includes written feedback with overall suggestions, with a specific view towards strengthening pacing, desire lines, and tension. The cost of this optional, after-the-course critique is $100. Details will be released during the final night of the course.
COMMITMENT REQUIRED FOR THE BEST EXPERIENCE:
If you're unable to attend either session for any reason, you'll have access to the recordings (with closed captioning) through June 30, 2022.
The Highlights Foundation strives for a safe and inclusive environment. You will have access to our Community Standards during the webinar where we ask for your respectful engagement with fellow creatives, including our faculty and staff.
HOW THIS PROGRAM IMPACTS KIDS:
Short stories engage young readers and educators alike, and present a fun and accessible introduction to the many different styles of fiction (from contemporary realism to speculative genres).
Why do we mention this? Learn about the Highlights Foundation mission.
RELATED RESOURCES:
Rob Costello: 5 Reasons You Should Be Writing Short Stories
Cynsations blog: Laura Sibson talks with Rob Costello about short stories
FROM OUR COMMUNITY:
"I really appreciated the [mini] format as a whole, the information, and the slides. I can't wait to put this to good use."
"Nora was a wonderful facilitator!"
"Rob Costello's keen insight, support, and interest throughout the week has pushed me onward with my project!!!"
Faculty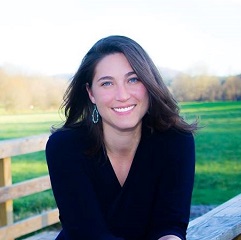 Nora Shalaway Carpenter (she/her) is the author of THE EDGE OF ANYTHING (a Bank Street Best Book of the Year;…
Learn more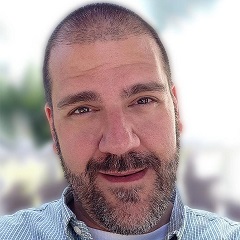 Rob Costello (he/him) is a queer man who writes contemporary and dark speculative fiction with a queer bent for and…
Learn more