2022 Black Creators HQ Meet, Greet, and Retreat
June 23 - 26, 2022
OVERVIEW:
In-person 4-Day/3-Night, Black Creators HQ Meet, Greet, and Retreat
This is an in-person retreat for Black Creatives.
There will be time to work on your own stories, connect with fellow creatives, and retreat.
Lodging and meals are included.
Check-in between 3pm – 5pm Eastern on Thursday, June 23
Ends at 1:00pm Eastern on Sunday, June 26
20 participants max (with an option to share accommodations at registration)
WHY THIS RETREAT?
Join Black Creators in Kidlit as we pack the grounds at the Highlights Foundation for our first annual BCHQ Meet, Greet, and Retreat! Get to know all of the opportunities and big things happening at BCHQ while you take time to focus on your own creative projects. Malcolm Newsome will host our long weekend together with opportunities for us to connect, vibe, and spend time working on craft.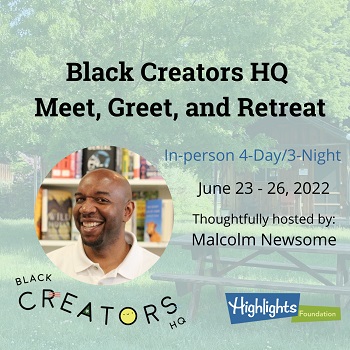 While this retreat is thoughtfully hosted by BCHQ, you do not need to be a current member of Black Creators HQ. This retreat is open to all Black creatives for shared time together in this creative space! If you are already a part of Black Creators HQ, please direct all BCHQ specific questions to Malcolm Newsome via Slack.
While at the retreat, every accommodation option includes a personal workspace, and you'll find various spaces around the grounds to get work done or take a nature walk if you need a change of pace or some inspiration.
ABOUT OUR RETREAT CENTER:
All in-person Highlights Foundation workshops and retreats (including this one) are held at our Retreat Center: The Barn at Boyds Mills.  This site was the home of the original founders of Highlights for Children Garry and Caroline Myers, and is located in the Poconos Mountains of Pennsylvania on the traditional and contemporary lands of the Lenape Nation.
Your retreat fee includes lodging, farm-fresh meals with snacks, and shuttle service from our local airport or bus/train stations if you need it.  For more information about attending a workshop or retreat here, visit the Barn at Boyds Mills website.
The Highlights Foundation strives for a safe and inclusive environment. You will have access to our Community Standards prior to the workshop where we ask for your respectful engagement with fellow creatives, including our faculty and staff.
RETREAT THOUGHTFULLY HOSTED BY: