Writing Science & Nature for Kids & Teens: A Workshop for Writers and Illustrators
June 9 - 12, 2022
OVERVIEW:
In-person 4-Day/3-Night Workshop and Retreat
Study the foundations of writing about science and nature for kids and teens while surrounded by science and nature! This is an in-person workshop at our Retreat Center with mentorship, hands-on activities, presentations, and ample time for exploring the outdoors, resting, writing, sketching, and more. This program includes:
One pre-workshop Zoom session for introductions, a creative writing exercise, and a Q & A about the retreat experience.
A 4-day/3-night retreat with 1:1 critiques, revision small group sessions, presentations, outdoor explorations, and more.
Begins on Thursday, June 9 (submission deadline is June 1)

Ends after lunch at 1:00pm Eastern on Sunday, June 12
Lodging and meals are included.
Post-course consultation included to review revisions and/or second manuscript.
20 participants max
FEEDBACK EXPECTED:
During this course: guidance and mentorship will be offered in three ways:
A 1:1 on-campus meeting with your faculty reader sharing insights and questions from your submission;
A 1:1 on-campus consultation during the workshop with an editor (Carol Hinz) or agent (Miranda Paul) to discuss submission related questions; and,
Additional consultation with a faculty reader (either in person or via Zoom) to discuss revision related questions and/or discuss new ideas.
Informal feedback will also be offered via optional sharing opportunities during creative exercises.
Pre-course submission:
Deadline: June 1, 2022 (we have extended this from the original deadline of May 22.). This submission will be the foundation for your first 1:1 during the course. Submit a cover-letter and one of the following:
One science or nature-themed picture book manuscript (up to 2,000 words, including backmatter)
Up to 2,000 words from a longer science or nature-themed project
A dummy (mocked-up picture book) as a PDF with sketches and words (if you are in author/illustrator)
A proposal or a one-page summary of ideas that you would like to discuss (if you do not have a work in progress)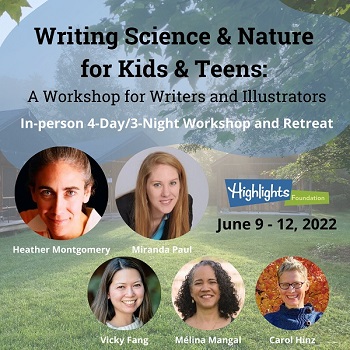 WHY THIS WORKSHOP?
If you want to energize readers through active fiction and nonfiction by writing about science and nature, this course will give you the tools and insights you need to advance on your path to success.
Presentations and creative exercises will help us examine various forms and formats of science and nature, including science-inspired fiction, narrative nonfiction, expository nonfiction, concept books, poetry, and everything in between. We'll also enjoy the outdoor possibilities at the Highlights Foundation retreat center to improve the depth of our writing and expand our observation skills.
You will:
Explore science and nature-themed writing through a range of formats and forms. 
Work one-to-one with faculty on a project of your choice. Faculty reader/attendee pairings will be made thoughtfully according to your work and your goals. (Providing your submission by June 1 allows us to make this pairing.)
Explore engaging science and nature-themed ideas: how to generate, evaluate, and shape them to engage and attract agents and editors.
Receive guidance on how to submit manuscripts and write proposals; including opportunities like work for hire and the educational market.
Enjoy free writing time so that you can stretch and work on your own projects. 
THIS WORKSHOP IS A GREAT FIT IF:
You love science and our natural world and want to share your knowledge and passion with kids. This workshop will show you the dynamics of engaging fiction and nonfiction science and nature-based writing.
You want to write picture books, nonfiction, chapter books, or books for middle grade and young adult readers. This comprehensive review of the market for science and nature books will move you forward, no matter the age level at which your writing is aimed.
You have several in-progress science or nature manuscripts and would appreciate multiple feedback perspectives. After your one-to-one critique with faculty, you'll have fresh ideas for revision. And after hearing from an editor about what they're looking for, you'll be well prepared to start submitting.
You are a published author or illustrator who wants to investigate the science and nature market. You'll hear from authors and editors working in the field, and have a chance to submit to all participating editors.
You'd appreciate some retreat time. This course has plenty of built-in time to write, draw, hike, or rest–whatever you need.
TENTATIVE AGENDA:
Pre-Workshop
You will receive a link to our virtual classroom where you can introduce yourself to fellow writers, engage in Highlights Foundation related resources (including our Community Standards), and view submission details related to this course.
Submission deadline: June 1, 2022. This submission will be the foundation for your first 1:1 during the course. See submission details in the "Expected Feedback" section of this description.
There is an OPTIONAL pre-workshop Zoom session on Tuesday, June 7th at 7pm Eastern to get to know one another, engage in our first creative writing exercise, and answer any last-minute questions you may have about the retreat experience. If you cannot attend this pre-workshop Zoom, a recording will be placed in your virtual classroom within 24 hours of the live session. Please review before the start of the workshop.
Tentative Retreat Schedule
Retreat Schedule
*Please note that Mélina Mangal is visiting the class virtually to present and offer 1:1s.
Thursday, June 9, 2022
Evening
3-5pm Eastern:                 Arrival
5:30pm Eastern                Appetizers & Dinner
Following dinner:             Faculty and attendee welcome, intro to Retreat Lending Library, and creative exercise with Miranda Paul
Friday, June 10, 2022
Morning
8:00 – 8:45                           Breakfast (coffee/tea available at 7:30)
8:45 – 10:15                         Breaking Boundaries – Heather Montgomery
10:15 – 10:30                       Break
10:30 – 12                            Work for Hire/Trade & What Lerner Acquires – Carol Hinz
Afternoon
12 – 12:45                            Lunch
12:45 – 1:45                        Outdoor Explore with Heather Montgomery
2: 00 – 3:30                        Faculty Meetings/Writing and Retreat Time

Vicky Fang
Miranda Paul
Heather Montgomery
Carol Hinz (consultation only)

4pm – 5:30pm                   Up Close with Picture Books with Miranda Paul
Evening
5:30                                     Appetizers
6:00                                    Dinner
7:30 pm                              Informal fireside discussion with all faculty & S'mores Science (weather permitting) Miranda Paul
9:30 pm                              Stargazing behind Lodge (weather permitting)
Saturday, June 11, 2022
Morning
8:00 – 8:45                          Breakfast (coffee/tea available at 7:30)<
8:45 – 10:15                        Research Roundup (& Educational Standards) – Heather Montgomery
10:30 – 12                            Meetings

Consultations with Carol or Miranda
Critiques with Mélina (virtual only), & Vicky, Heather, Miranda
Afternoon
12 – 12:45                           Lunch
12:45 – 2                             Fiction + STEM/STEAM with Vicky Fang
2:30pm – 4                        Revision with Miranda Paul
4:30pm                              Biography, Research, & Craft with Mélina Mangal (virtual)
Evening
5:30 pm                             Appetizers
6:00-6:45                          Dinner
7:00 pm                             Crafting Proposals with Heather Montgomery (optional)
TBD                                    Outdoor Explore/Night Hike
Sunday, June 12, 2022
Morning
8:00 – 8:45                      Breakfast (coffee/tea available at 7:30)<
9:00-10:00.                   Pitch, Query, and Submission Tips with Miranda Paul
10:00-11:00                   Final Q & A with all faculty
11:00-12:00                   BREAK / Pack
Afternoon
12:00                                Lunch and Goodbyes
A note about workshop agendas and how they change and evolve. 
Nervous about critiques? See how the Highlights Foundation approaches the process here.
ABOUT OUR RETREAT CENTER:
All in-person Highlights Foundation workshops (including this one) are held at our Retreat Center: The Barn at Boyds Mills.  This site was the home of the original founders of Highlights for Children Garry and Caroline Myers, and is located in the Poconos Mountains of Pennsylvania on the traditional and contemporary lands of the Lenape Nation.
Your workshop tuition includes lodging, farm-fresh meals with snacks, and shuttle service from our local airport or bus/train stations if you need it.  For more information about attending a workshop or retreat here, visit the Barn at Boyds Mills website.
HOW THIS WORKSHOP IMPACTS KIDS:
Kids love reading about their world, and science that is out-of-this-world! This course will show you ways to make your science or nature book both engaging and informative.
Why do we mention this? Learn about the Highlights Foundation mission. 
COMMITMENT REQUIRED FOR THE BEST EXPERIENCE:
As an in-person event at our Retreat Center, you'll have a chance to step away from everyday life to experience the workshop. We build in breaks and independent time so you have space for your personal needs. While we encourage participation in all group events, we know that as an adult learner you can decide if you need more time to yourself. Please let someone from our staff or faculty know if you plan to step away from group activities.
The Highlights Foundation strives for a safe and inclusive environment. You will have access to our Community Standards prior to the workshop where we ask for your respectful engagement with fellow creatives, including our faculty and staff.
Another commitment that will help you get the most from this workshop is submission deadlines for your 1:1 critique. The submission deadline is May 22 in order to allow faculty ample time to familiarize themselves with your work in advance of your meeting.  If this is an issue, please let us know.
Read some ideas about planning for the right level of commitment. 
RELATED RESOURCES
Writing STEM With a Twist
What? So What? Now What? Science Writing that Stands Out
Science Writing…It's Not Just for Nonfiction
Setting a Scene with a STEM Book
Making Science Fun (or Funny)
The Intersection of Science & Social Studies: Can Creative Combinations Enhance Your Writing?
STEAM-ing Into Nonfiction
3 Myths About Why Writing Science Books for Kids is Hard
Elements of Excellent Science Books
FROM OUR COMMUNITY:
"In the midst of uncertain times, I chose to attend the Highlights Nature and Science Writing course in 2021. I was in need of a re-set and re-center, and I found both. The instructors were experienced, motivating and available. There was a good balance of activity and free-time. The accommodations are cozy, the meals terrific and the setting was delightful. The best part was the variety of the participants in our group and the most surprising was how quickly we all felt part of something wonderful. This course was an investment in my writing and myself, and it was worth every penny!"
"All the faculty were fantastic! They were warm, fun, and knowledgeable. They all seemed to take a personal interest in helping us further our career and were always accessible."
"It could not have been better, no way, no how. I was amazed and mesmerized and my brain almost exploded (in a good way)! Why did I wait so long? Glad I found out about these workshops!"
"Their willingness to critique participant manuscripts is invaluable. Miranda Paul was exceptional in her ability to not only point out flaws, but to help steer a writer toward re-envisioning a better product."
Faculty