Writing the Rainbow: LGBTQIA+ Themes in Picture Books, An Online Workshop
June 2 - 18, 2022
OVERVIEW:
3-Week Online Course
This workshop is designed to bring LGBTQIA+ creators and allies together to craft picture books with clear LGBTQIA+ themes. You will learn to create books that celebrate joy, respect, and appreciation to children in today's world, showing beauty and strength in our rainbow of experiences.
Live sessions at take place twice a week: Thursdays from 7pm – 9pm Eastern (June 2, 9, 16) and Saturday, June 4 from 2pm – 4pm Eastern, *Sunday, June 12 from 2pm – 4pm Eastern, and Saturday, June 18 from 2-4pm. The sessions will be approximately 2 hours.
Sessions include writing exercises, with recommended reading throughout the course.
Optional (but encouraged) peer-to-peer community hours will be offered at 12pm Eastern on Mondays (June 6 – July 27) to meet with fellow creatives and share work, and/or discuss responses to weekly assignments. No faculty will be present during the peer-to-peer hours.
Your full picture book manuscript (up to 1,000 words) will be reviewed by faculty.  The submission deadline is May 20, 2022.
20 participants max
FEEDBACK EXPECTED:
One full manuscript critique. You will schedule 1:1 time with a faculty leader to review your feedback during the week of June 6, 2022. Your submission of a picture book manuscript for this session is due by Friday, May 20. Word count limit is 1,000 words, not including your author's note or back matter.
Informal written feedback from faculty and peers will be offered in the virtual classroom and during live sessions throughout the course.
Peer discussion during office hours.
Following the workshop, there are additional opportunities for paid written feedback with Lesléa Newman and Rob Sanders at a rate of $100 per 1,000-word picture book manuscript. Deadline for this offer: July 31, 2022.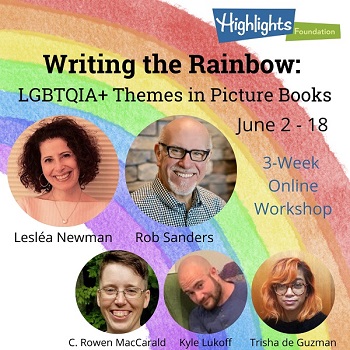 WHY THIS WORKSHOP?
Picture books bring the world into the hands of young readers. They celebrate all of us as individuals, families, and communities. In many ways we are different, and in many ways we are alike.
Join Lesléa Newman, Rob Sanders, Kyle Lukoff and C. Rowen MacCarald for three weeks of craft-focused lectures, mentor text study, manuscript feedback, Q&A, and community.
Together we'll:
Work to understand the needs of our diverse LGBTQIA+ community
Analyze current and historical picture books with LGBTQIA+ themes and topics
Identify new topics for LGBTQIA+ themed picture books
Explore tools of storytelling for both fiction and nonfiction picture books
Examine how to turn story ideas into books that children will love
Learn tools for revision
Hear from publishing guest(s) about the submission process and LGBTQIA+ needs in the market
Receive critique on a full picture book manuscript (included) with the option to add on another (paid)
Writing exercises will encourage creatives to dig into their works-in-progress, and explore new ideas.  Along with your weekly live lectures, you are also encouraged to meet with fellow creatives during unstructured office hours. This community time is offered to provide space for you to learn more about stories, challenges, and one another. Your faculty will not be present during these unstructured sessions.
Along with supporting your creation of beautiful picture books, we strive to amplify the diversity of LGBTQIA+ themes and experiences, especially those from underrepresented voices.
IT'S A GREAT FIT FOR:
Published and pre-published picture book authors and author/illustrators creating stories with LGBTQIA+ themes, as well as illustrators wishing to create picture book text with LGBTQIA+ themes.
All picture book genres are applicable including fiction, informational fiction, biography, other nonfiction, rhymed verse, and more.
All LGBTQIA+ community members, including allies, will be joyfully welcomed!
Those who need a workshop that fits into your schedule. This is an online course. All live lectures will be recorded so that you can watch the recordings at a time that best fits your needs. The virtual classroom is available for questions and interaction with your faculty and fellow writers.
Those who would like a high level of engagement with fellow writers and faculty to experiment and grow as you create your stories for children.
DETAILED AGENDA:
Prior to the course, you will receive a link to our virtual classroom where you can introduce yourself to fellow writers, engage in Highlights Foundation related resources (including our Community Standards), and review details about submissions.
There is a full manuscript critique included in this program. Your submission of a picture book manuscript for this session is due by Friday, May 20 (word count limit is 1,000 words, not including author's note or back matter).
Week One
LIVE Session 1: Thursday, June 2, 7-9pm Eastern
Welcome and Introductions
General Session: The Possibilities Are Endless: One Topic, Many Stories
Writing Exercise: 99 Ways to Tell Your Story
LIVE Session 2: Saturday, June 4, 2-4pm Eastern
Mentor Text Read-Aloud
General Session: Finding and Telling Untold Stories
Interactive Q & A
In the Virtual Classroom:
Introductions
Pre-recorded video on how to best use the virtual classroom features: discussions boards, Community Standards, and recorded content
*Optional peer-to-peer office hour: Monday, June 6 at 12pm Eastern
Week Two
Consultations
Individual 1:1 consultations with faculty for feedback on your manuscript will take place during this week. You will schedule your session with faculty in the virtual classroom.
LIVE Session 3: Thursday, June 9, 7-9pm Eastern
Mentor Text Read Aloud
General Session: Dump Trucks, Dresses, and Dolls, Oh, My: Smashing Gender Stereotypes in Children's Literature
Writing Exercise: Waterfall Writing
LIVE Session 4: *Sunday, June 12, 2-4pm Eastern
Reading the Rainbow—Sharing Our Favorite LGBTQIA+ Picture Books
Break Out Groups: Repetition with Rob and Remembering with Lesléa
In the Virtual Classroom:
Peer & faculty feedback engagement
Consultation details, including what to expect during your 1:1 meeting
*Optional peer-to-peer office hour: Monday, June 13 at 12pm Eastern
Week Three
LIVE Session 5: Thursday, June 16, 7-9pm Eastern
Mentor Text Read-Aloud
Why Editors Acquire What They Do with guest editor Trisha de Guzman
Writing Exercise: The Cutting Room Floor, Less Is More, Delete Your Darlings: Revising and Tightening Your Manuscript
LIVE Session 6: Saturday, June 18, 2-4pm Eastern
General Session with Kyle Lukoff
Where to Go from Here: Resources to Guide You on Your Journey, Questions, and Closing Remarks
Details about optional 1:1 critiques with faculty and consulting rates from faculty for continued mentoring.
In the Virtual Classroom:
Peer & faculty feedback engagement
Overview of submissions opportunities following the course
*Optional peer-to-peer office hour: Monday, June 20 at 12pm Eastern
You are also invited to continue peer-to-peer office hours on Mondays through July 25.
A note about workshop agendas and how they change and evolve.
**Update 4/7/22: As of 3/25/22 this description included a summary point that read, "Affirm Dr. Rudine Sims Bishop's important message of mirrors, windows, and sliding glass doors in children's books." We removed the summary point, and revised the description to include additional resources and our commitment toward better support and amplification of the diversity of LGBTQIA+ themes and experiences.
COMMITMENT REQUIRED FOR THE BEST EXPERIENCE:
This multi-week online program is best if you attend or watch all lectures, read suggested texts, and participate in the weekly writing exercises. (Note: If your schedule does not allow you to attend the live sessions and you would still like to register, that's OK! You'll have access to the recordings with closed captioning. They're posted the day after the session, and they'll be available through July 31, 2022.)
The Highlights Foundation strives for a safe and inclusive environment. You will have access to our Community Standards prior to the workshop where we ask for your respectful engagement with fellow creatives, including our faculty and staff.
Another commitment that will help you get the most from this workshop is the submission deadline for your picture book critique. The submission deadline is May 20 to allow faculty ample time to familiarize themselves with your work in advance of your meeting.  If this is an issue, please let us know.
Trying to figure out how this course fits into your schedule? Read some ideas about planning for the right level of commitment.
HOW IT IMPACTS KIDS:
Kids see themselves, their families, and their communities, as part of a larger world through the pages of a picture book. These books encourage self-acceptance, empathy, and compassion and resonate with a variety of family structures and identities.
Why do we mention this? Learn about the Highlights Foundation mission.
RESOURCES:
Writing the Rainbow: Rob Sanders and Lesléa Newman Talk About LGBTQIA+ Picture Books
Inner Truths: Crafting LGBTQ+ Children's Books – Lesléa Newman and Kyle Lukoff on the Reach Out and Read podcast.
More LGBTQIA+ Picture Books: Why?
Rediscovering Joy with Picture Books
Lesléa Newman's websites: lesleakids.com and lesleanewman.com.
Rob Sanders' website: robsanderswrites.com.
Kyle Lukoff's website: http://www.kylelukoff.com/
5 Questions for Kyle Lukoff from The Horn Book
Watch a Lee & Low Books webinar: LGBTQ+ Children's Books: A Conversation with Authors and download their list of books and resources
The Gay History of America's Classic Children's Books (just for fun!)
How LGBTQIA+ Book Bans Impact Kids and Teens (We Need Diverse Books Blog; by Karis Rogerson)
Review: Sharice's Big Voice: A Native Kid Becomes a Congresswoman (Social Justice Books; Reviewed by Debbie Reese)
FROM OUR COMMUNITY:
"Lesléa and Rob were both fantastic! Lesléa is always super professional and very knowledgeable about her craft. Rob was fun and interesting. His energy was contagious! They made an excellent team!"
"Rob and Lesléa are so fantastic. From the moment I sat down to the first session through the very end of the last, I felt the joy, passion, engagement, and care that Rob and Lesléa brought to this retreat. Generous does not quite cover it. They provided us with so many resources to take home, engaged with us during one-on-ones with care, positivity, and a deep sense of appreciation for the stories we each brought to the table. I felt championed, celebrated, and supported throughout this whole experience. Lesléa brought a precision and wealth of knowledge to the table and Rob brought an excitement and openness that was infectious. There was a fantastic balance of craft, questions, and play. Finally, I was so impressed by their level of kind professionalism paired with a willingness to share their personal trajectories. I walked away with a better understanding of how to be a good literary citizen, the fundamentals of my craft, tricks and tips to employ while writing and revising, industry ins and outs, and how to run a successful workshop! I feel so lucky to have been a part of this."
"Removing rhyme, adding descriptive words, cutting word count, cutting down proposal, overhauling concepts entirely! I've reworked Pride Pets from series to one survey book and I've reworked the bio I worked on with Lesléa from one of her ideas too. This course was transformative!"
Are you looking for information about scholarships? Find out more about the Highlights Foundation scholarship program here.
Faculty