Writing for the Educational Market 2022
June 27 - 30, 2022
OVERVIEW:
This workshop is full. Please click here to add your name to the waitlist. We'll contact you if a spot opens up!
Also, we have two upcoming nonfiction courses that could be a good alternative for you:
Writing Science & Nature for Kids & Teens: A Workshop for Writers and Illustrators, June 9-12, on campus
Summer Camp in Nonfiction: Explore, Dig Deep, Inspire, June 15-19, on campus
Would you like to have editors contacting you with requests to write for them? Welcome to the educational market!
This is an in-person workshop at our Retreat Center packed with lectures, guest sessions, writing exercises, and a 1:1 consultation.
Includes lodging and meals.
Begins at 3:00pm on Monday, June 27

Ends at 1:00pm on Thursday, June 30

Limited to 16 participants for maximum personal attention.
FEEDBACK EXPECTED:
One-to-one consultations with faculty to discuss your writing (During an informal Zoom session leading up to the program, workshop leaders will let you know what to bring; no submissions are due ahead of the course.)
Small group workshopping facilitated by authors from the educational market space
Informal opportunities for feedback and to talk with faculty and guests will be present throughout your time on campus.
WHY THIS WORKSHOP?
If the words "educational market" make you think only of workbooks and textbooks, it's time to think again!  Today's educational publishers are eager to see lively nonfiction, fast-paced fiction, poetry, video scripts, and more.
The rules for educational writing are different from trade books; yet the end result is creative, exciting, and kid-pleasing. Whether your interest is straight informational nonfiction, narrative nonfiction, series fiction, or another area, this workshop will help you find your niche in the educational market. Join us for: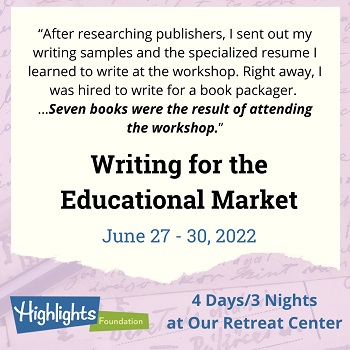 Current market-specific information;
Techniques for meeting publishers' specifications;
Demystifying standards and text leveling;
One-to-one sessions with workshop faculty;
Practice at producing submissions packages.
BONUS: Opportunities to interact with editors at educational publishing companies!
THIS WORKSHOP IS A GREAT FIT IF:
You are a writer who wants to work in the educational market. Educational publishing companies need you!
You're a teacher with experience in sharing these books with students. We'll show you how you can play to your strengths when writing for this market.
You want an in-person learning experience. This program has a balance of presentations, consultations, and writing time so that you can engage with the group and explore on your own.
DETAILED AGENDA:
Pre-Workshop:
You will receive a link to our virtual classroom where you can introduce yourself to fellow writers, engage in Highlights Foundation related resources (including our Community Standards), and more.
You can attend an informal Zoom session with workshop faculty explaining what you should bring to the workshop (including materials for our small group discussions) and ask any questions you have in advance of your arrival.  This informal Zoom session will be recorded for those who cannot attend live.
Tentative Retreat Schedule:
(All times Eastern Standard Time)
Monday, June 27
2pm – 3pm Eastern: Arrival
3pm – 5pm Eastern: Session #1 with your faculty
5:30pm: Appetizers & Dinner
Following dinner:  Preparing for tomorrow's meetings, then socializing!
Tuesday, June 28
Morning:
Breakfast
The Introductory Packet, Your Key to Contact
Crafting Resumes, Cover Letters, and Samples
Afternoon:
Lunch
Nonfiction Opportunities
Responding to Editorial Feedback
Personal Writing Time
Evening:
Appetizers & Dinner
After Dinner: Guest Editor Shelley Evans-Marshall
Wednesday, June 29
Morning:
Breakfast
Fiction Opportunities
Crafting Samples
Afternoon:
Lunch
Small Group Writing Exercises
1:1 Consultations
Personal Writing Time
Evening:
Appetizers & Dinner
After Dinner: VIRTUAL Guest Editor Session, Harold Underdown
Thursday, June 30
Morning
Breakfast
Series Writing for the Educational Market
Curriculum Standards
Open Q&A
Afternoon
A note about workshop agendas and how they change and evolve. 
ABOUT OUR RETREAT CENTER:
All in-person Highlights Foundation workshops (including this one) are held at our Retreat Center: The Barn at Boyds Mills.  This site was the home of the original founders of Highlights for Children Garry and Caroline Myers, and is located in the Poconos Mountains of Pennsylvania on the traditional and contemporary lands of the Lenape Nation.
Your workshop tuition includes lodging, farm-fresh meals with snacks, and shuttle service from our local airport or bus/train stations if you need it.  For more information about attending a workshop or retreat here, visit the Barn at Boyds Mills website.
HOW THIS WORKSHOP IMPACTS KIDS:
Books, stories, and other works used in educational settings are learning opportunities in action, and they help kids grasp important concepts.  Your craft and voice can help shape a child's connection to their lessons.
Why do we mention this? Learn about the Highlights Foundation mission. 
COMMITMENT REQUIRED FOR THE BEST EXPERIENCE:
As an in-person event at our Retreat Center, you'll have a chance to step away from everyday life to experience the workshop. We build in breaks and independent time so you have space for your personal needs. While we encourage participation in all group events, we know that as an adult learner you can decide if you need more time to yourself. Please let someone from our staff or faculty know if you plan to step away from group activities.
The Highlights Foundation strives for a safe and inclusive environment. You will have access to our Community Standards prior to the workshop where we ask for your respectful engagement with fellow creatives, including our faculty and staff.
Another commitment that will help you get the most from this workshop is the 1:1 consultations. During your informal Zoom session leading up to the program, workshop leaders will let you know what to bring (no submissions are due ahead of the course).
Read some ideas about planning for the right level of commitment. 
RELATED RESOURCES
Paula Morrow: Thinking for Three
Jan Fields: Putting the Fun In
Jan Fields: Choose Your Own Writing Adventure
Breaking Into the Educational Market
Paula Morrow: Energize Your Articles With Interviews
Paula Morrow: Those Pesky Specs! Writing for the Educational Market
FROM OUR COMMUNITY:
"Great opportunity to hear from a variety of experts and specialists who had so much to offer including concrete support and contacts."
"Jan and Paula were the best. They were a great balance, both knowledgeable, approachable and obviously the best in the business."
"The perfect tag team! Infinitely qualified and approachable."
"Jan and Paula are wonderful speakers, teachers, mentors, and fun to hang out with. I absolutely loved my time with them. I could not have asked for better speakers."
"This is a fantastic workshop. I came not knowing how the educational market works. And now I know exactly what to do to find work for hire, write book proposals, work for book packagers, etc."
"Since last summer, I have been following Jan and Paula's advice. Many of the other participants had been honing their writing careers for years in the industry before coming to the workshop. I came to the workshop for a career pivot from instructional design to freelance writing. While this has been slower than anticipated, my year has been productive. I began submitting my packets in late July. By March, I have been assigned to a project with A Pass Education. I've heard from editors and joined writing groups."
"I attended the Writing for the Educational Market workshop in 2016. I learned everything I needed to know about breaking into the educational market. After researching publishers, I sent out my writing samples and the specialized resume I learned to write at the workshop. Right away, I was hired to write for a book packager. Engineering AT&T Stadium was published by ABDO Publishing in 2017. ABDO is one of the largest educational publishers. I have also written six books for Black Rabbit Books, three were published in 2018 and three more will be released this fall. These seven books were the result of attending the workshop."
"At the workshop, I learned a great deal starting with the difference between publishers and packagers. There were also two interesting guest speakers, but Jan and Paula were fantastic. They each worked with me personally on strengthening my resume and samples. They gave encouraging advice and extensive lists on where to send my material. They were full of information on publishing trends, writing possibilities, pitfalls to avoid, and so much more. In the three years since, I have published a five book fiction series for High Noon, four nonfiction books for 12 Story Library, and I have two additional nonfiction books awaiting publication. That's 11 books in three years. I am extremely glad I took the workshop and very grateful to the two of them for opening this market to me."
"One measure of success for me is making money as a writer. I had a paying contract when I left the workshop! I revised my submission packet in the weeks following the workshop and sent it out on a regular basis. By October, I had my first non-fiction educational publishing book contract. After those two projects, I had made more than the cost of the workshop. In March, I signed a contract for a textbook chapter for double the cost of the workshop."
"Jan Fields and Paula Morrow gave exactly the knowledge required to enter the educational market. Paula's experience provided a great editorial background. Jan's insider knowledge and insight, along with her wonderfully dry wit and engaging delivery, provided the step-by-step guidance needed to become a success. Since the workshop (7 months ago) I have written 6 educational books, three for Rourke Educational, two for ABDO (Redline Editorial) and one for North Star Editions (Red Line Editorial). I only queried three publishers and have been writing for two of them. I haven't queried any more because (this will be unbelievable, but a true part of educational publishing), I don't need more work!"
"It was a terrific workshop, and both Jan and Paula were so helpful. Paula helped me rework my resume, and after the course, I was hired to write a book by Red Line. If writing educational material is your goal, this is the workshop for you."
Faculty