Rhyming Picture Books: A Two-Night Mini
February 22 - 25, 2022
OVERVIEW:
A Two-Night Mini Online Course
Tuesday, February 22, 2022 (7pm – 8:15pm EST)
Thursday, February 24, 2022 (7pm – 8:15pm EST)
Webinar-style program with closed captioning available and limited interaction in the chat
Optional post-course critique opportunity available for an additional cost
Take a look at stories that sing with rhythm and rhyme, and learn how to accomplish the structure and skill needed in your own work. This program is a great fit if you're looking for a short course of two, 75-minute sessions offering limited interaction with the community, but loads of information.
Feedback Expected:
None is included in the course. There will be limited interaction in the chat feature of the webinar-style program.
A small number of student submission samples will be used during the program. If you would like to be considered for this opportunity, please submit your single, rhyming stanza at the time of registration.
An optional, post-course critique opportunity is available for an additional cost after the course for a rhyming, rhythmic, and/or lyrical work-in-progress (up to 750 words).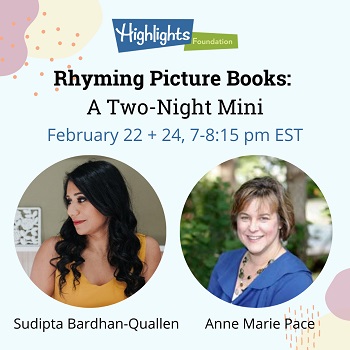 WHY THIS WORKSHOP?
To rhyme or not to rhyme… a question that fills the picture book writer's mind!
Join Sudipta Bardhan-Quallen and Anne Marie Pace for a webinar-style mini to find some answers! Our two evening sessions will be centered on the rhyming picture book form. We'll consider:
Meter & Rhythm
Tone & Voice
Pacing & Page Turns
Mastering lyrical language
Incorporating poetic techniques into prose
IT'S A GREAT FIT IF:
You have written a picture book(s) but aren't sure if rhyme is the best device to drive the story forward.
You haven't started writing your picture book, but love working in rhyme.
You've received feedback that your rhyme isn't working. You can revise to make the rhyme work, but should you? Not all stories are best served by rhyme. This mini will explore those that do and those that don't.
You don't write in rhyme, but you want tips on how to make your prose sound more lyrical.
You're looking for a picture book workshop with a minimal time commitment. This mini will let you develop craft skills without investing a lot of time.
TENTATIVE AGENDA:
At registration: Consider submitting one stanza of a rhyming work in progress (no more than 6 lines). We will choose a few to analyze during the course.
(Don't have a rhyming work-in-progress? No problem! Submitting one stanza is not a requirement for this course.)
Part One: Tuesday, February 22, 2022 (7pm-8:15pm Eastern)
Basics of meter

Keeping consistent meter
Deliberately breaking meter

Types of rhyme and where to find them: end rhyme, internal rhyme, double rhyme, near rhyme, etc.
Classic rhyme schemes and poetic forms: couplets, limericks, other types of poems like haiku and more.
Using refrains and repetition.
Rethinking prose to incorporate poetic techniques.
Part Two: Thursday, February 24, 2022 (7pm-8:15pm EST)
Mentor text examples
Resources for rhymers
Q&A
Information about optional critiques
Optional After the Course Critique: An optional picture book critique on a rhyming, rhythmic, and/or lyrical work-in-progress will be made available after the course. The critique includes a 15-minute Zoom consultation to discuss your work, with feedback and suggestions for strengthening your rhyme/meter.
The cost of this optional, after-the-course critique is $100. Your faculty reader will review one full picture book manuscript, up to 750 words. Full details about this opportunity will be shared at the final session on February 24.
Please note:
If you're unable to attend either session for any reason, you'll have access to the recordings (with closed captioning) through March 31, 2022.
HOW IT IMPACTS KIDS:
Some of the most beloved and memorable children's books are written in rhyme. If rhyme serves your story, it could be a great way to foster connection with your readers.
Why do we mention this? Learn about the Highlights Foundation mission.
RELATED RESOURCES:
Picture Books: To Rhyme or Not to Rhyme
Picture Book Word Count, and Other Rules That Are Meant to Be Broken
Get to Know Your Picture Book Before You Start Revising
Short and Easy, Right? How Hard Can It Be to Write a Picture Book
Seeing Your Manuscript by Listening
FROM OUR COMMUNITY:
"You picked two very different authors to teach the course and I enjoyed their similar (yet slightly different) perspectives."
"Deep expertise, extremely generous with their time, insights. Perfect pair–very different but complimentary skills/experiences. And funny!"
"The faculty, Sudipta & Anne Marie, were fantastic. It was wonderful to receive direction from such established and prolific writers. They brought a great deal of enthusiasm to their presentations."
"I've been avoiding rhyme and even rewritten old rhyming manuscripts into prose since I felt unable to master the genre. Now that my knowledge base is broader I'm confident to try again."
Faculty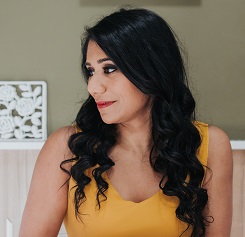 Sudipta Bardhan-Quallen is an award-winning children's book author whose books include Chicks Rule, The United States vs. Jackie Robinson (2019…
Learn more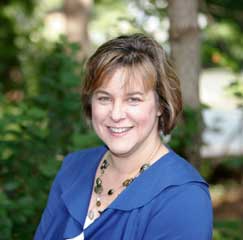 In spite of the adage to write what you know, Anne Marie Pace has never been a vampire, a ballerina,…
Learn more