Beginning Your Novel: MG & YA First Pages, Pacing, & Voice
January 8 - 9, 2022
OVERVIEW:
Online Weekend Intensive
Saturday, January 8, 2021 (7pm – 9pm EST)
Sunday, January 9, 2021 (12pm – 5pm EST)
40 participants max
Join us for a productive weekend packed with first page reviews, revisions, writing exercises, Q&A with agent Linda Camacho, and interactive lectures (with closed captioning): all designed to help you go deeper into your work in progress and approach it with fresh ideas.
FEEDBACK EXPECTED:
Informal: You will create during the course and can share in small groups with some informal verbal feedback from faculty and peers.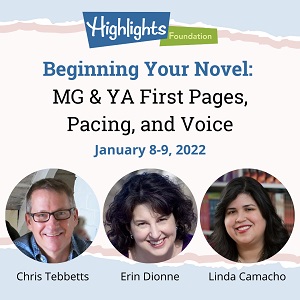 WHY THIS WORKSHOP?
Do you want to see how unlocking the opening of your manuscript can affect the structure and trajectory of the rest of your story?
Quite often, issues with a story in progress can be traced back to its beginning. For this weekend intensive, Erin Dionne and Chris Tebbetts will help you look at how your first pages and early choices can help you navigate the rest of the writing process. What promise are you making to the reader on page one? How can you best deliver on that promise as you work to create a taut middle and satisfying ending? While our focus will be on beginnings, the session will also offer discussion, tools, and tips to help writers get unstuck at any phase of the process.
Participants will be asked to submit Page One from a work in progress prior to the workshop. You'll workshop this submission during the weekend and use it as a basis to share during peer and informal feedback. (Some submissions will be used as examples during class exercises.)
IT'S A GREAT FIT FOR:
Novelists (middle grade or YA) or chapter book writers.
Beginners, if you're eager to figure out your story and make meaningful progress on your draft.
Experienced writers, if you're working on or struggling with a new story and you want to begin again with support, community, and accountability.
Those who like the structure of a weekend intensive with all sessions taking place over the course of two days, with small group opportunities and large group lectures.
DETAILED AGENDA:
Saturday, January 8, 7-9pm Eastern
Part 1: The Promise of a Good Beginning
Welcome with introductions including one line from your WIP
Opening writing exercise
Mini-lesson: Deep Point of View
Revise: Workshop your submitted page in real time with breakout rooms
---
Sunday, January 9, 12-5pm Eastern
Reconvene to share discoveries from yesterday
Part 2: Voice
How does word choice, tone, and personality on the page add to the reading experience?
Break
Part 3: Pacing
How can you ground your reader in the world with your beginning?
Revise: Workshop your story's beginning with breakout rooms
Reconvene to share and discuss changes made and talk about other considerations (e.g., when and if to outline, sustaining tension, seeding your ending from the start, plot vs. theme.)
Break
Part 4: Q&A with agent Linda Camacho
Small Group Office Hours and Community Discussion: Where are you stuck, and why are you here?
Reconvene for parting thoughts
Throughout the Workshop
Informal feedback on all writing exercises.
Practical approaches to assessing elements from the beginning of your manuscript and reincorporating them throughout the story.
Open discussion about the many ways in which we get unstuck, with a focus on practical solutions.
A note about workshop agendas and how they change and evolve.
COMMITMENT REQUIRED FOR THE BEST EXPERIENCE:
This weekend intensive is best if you attend and engage in all the sessions live. (Note: If your schedule does not allow you to attend all the live sessions and you would still like to register, that's OK! You'll have access to the recordings with closed captioning. They're posted the day after the session, and they'll be available through February 28, 2022.)
Trying to figure out how this course fits into your schedule? Read some ideas about planning for the right level of commitment.
HOW IT IMPACTS KIDS:
Your book can be a meaningful experience for the children and young adults who read it. This course helps you identify the promises you are making to your readers on page one and offers ways of making sure you deliver on those promises, all the way to the end of the story.
Why do we mention this? Learn about the Highlights Foundation mission.
RELATED RESOURCES:
Erin Dionne: Promises, Promises*
Chris Tebbetts: The Secret Is, There Is No Secret
Blog Post on Visual Outlining with Chris Tebbetts
Chris Tebbetts: As Simple As Possible: Three Ways To Tighten Your Prose
5 Ways to Reclaim Your Creative Joy
Step Away From Your Manuscript & Shake Things Up With Writers' Bingo
Breaking Through Those Creative Blocks
Chris Tebbetts: Mining Our Personal Fascinations for Story Material
See what Erin Dionne thinks is the hardest part about writing a good beginning. Hint: She once cut 72 pages off the beginning of her novel in a revision.
Hear about the time Chris Tebbetts learned something new by re-reading the first page of his book: "There's something in those currants, isn't there?" "There is now!"
FROM OUR COMMUNITY:
"Erin and Chris were extraordinary–not only thoughtful, insightful, and fun but also unbelievably generous with their time. The resources they provided are helpful and varied."
"All the faculty were knowledgeable, kind, generous, and thoughtful. And caring. I appreciated Erin's skill at building a safe space to share. The material from all faculty was well prepared and rich!"
"I found both Erin and Chris intuitive, personable, genuine, accomplished and willing to go the extra mile to help. They work well as partners to lead and I liked that each had a different way of approaching things."
"Chris Tebbetts is an extraordinary teacher—his direct critique went straight to the heart of my novel and the techniques he provided, through the live and recorded sessions gave me revision tools which are relevant to my manuscript and to my overall writing goals. Erin Dionne's lectures illuminated many paths for everyday writing practices. Her teaching provided many, many strategies for strengthening my manuscript."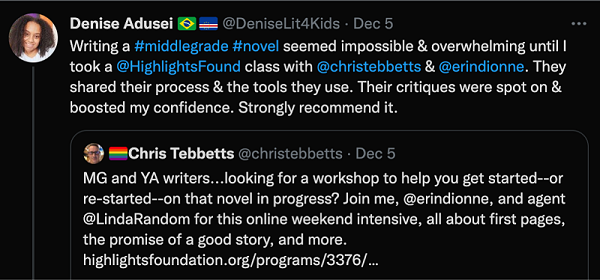 Faculty