Revising Your Verse Novel: A Three-Part Online Workshop
October 27 - December 15, 2021
TYPE & LENGTH:
Seven-week, online course (October 27-December 15)
Revise your verse novel through weekly lectures, discussions, and writing exercises– Some live via Zoom, and some self-guided.
You'll have one peer workshopping opportunity of 8-10 poems, as well as informal feedback on all writing exercises.
PARTICIPANT CAP:
16
WHY THIS WORKSHOP?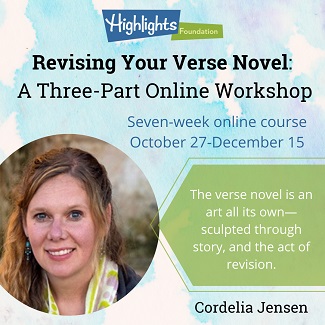 Red, White, and Whole by Rajani LaRocca
Every Body Looking by Candice Iloh
Suggested Reading:
Save the Cat Writes a Novel by Jessica Brody
Skyscraping by Cordelia Jensen
The Way the Light Bends by Cordelia Jensen
Every Shiny Thing by Cordelia Jensen
IT'S A GREAT FIT IF:
You have a completed draft of a middle grade or young adult novel in verse.
You need the structure of a multi-week course to make headway into your revisions.
You are looking for writing exercises to extend your understanding of the form and grow as a verse novelist.
You crave time with fellow verse novelists. We'll build community online with our shared love of the form and learn more by opening to the diversity of ideas in the group.
You enjoy online learning. This multi-week course relies on LIVE Zoom interaction and contributions in the virtual classroom.
COMMITMENT REQUIRED FOR THE BEST EXPERIENCE:
This course is best if you attend and engage in all the live sessions. Participants are encouraged to leave open/schedule blocks of time for themselves to work on prompts, projects, and reflections throughout.
Submission of weekly exercises is optional, but highly encouraged.
Submission of 8-10 revised poems for peer workshopping, and feedback, is due by December 1, 2021.
You will have access to all recordings and discussions through January 31, 2022.
TENTATIVE AGENDA:
Participants will have access to an online classroom within 5 days of the start of the course, where they can engage in the community discussion board and review Highlights Foundation related resources.
PART ONE
Wednesday, October 27 (NO LIVE SESSIONS)
Course introduction and recorded materials released in the virtual classroom.
Writing exercise #1 available on the discussion board.
Wednesday, November 3
Live Zoom Session, 7-8:30pm Eastern
Deepening Emotional Arc & Theme
Weekly exercise #2 posted in the virtual classroom
Wednesday, November 10
Live Zoom Session, 7-8:30pm Eastern
Pacing & Structure
Weekly exercise #3 posted in the virtual classroom
Wednesday, November 17
Live Zoom Session, 7-8:30pm Eastern
How to Approach Line Level Revisions, A Demonstration
Weekly exercise #4 posted in the virtual classroom
PART TWO
November 18-December 1 (NO LIVE SESSIONS)
Independent Revisions
Participation in the Virtual Discussion area
Submissions due, December 1, 2021 (8-10 poems)
December 2-15
Read and Reflect on Peer Submissions (group assignments made for workshopping, please feel free to read all submissions.)
PART THREE
Wednesday, December 8
Live Zoom Session, 7-8:30pm Eastern
Plot Beats & Your Story
Discuss expectations for workshopping next week (group assignments reviewed for workshopping, please feel free to read all submissions.)
Wednesday, December 15
Live Zoom Session, 12-1:30pm Eastern OR 7-8:30pm Eastern
Attend your workshopping session with fellow writers to read and discuss revisions
Final Q & A with Cordelia
SCHOLARSHIPS AVAILABLE:
Scholarships are available for this workshop–the application deadline is September 15, 2021. Click here to apply! For more information about scholarships, click here.
HOW THIS WORKSHOP IMPACTS KIDS:
Verse novels can provide a powerful emotional experience for young readers. This workshop will help you revise yours so that it can shine.
HIGHLIGHTS FOUNDATION RESOURCES AND FAQS FOR WORKSHOPS:
RELATED RESOURCES:
Auditioning Poetry Devices for Your Verse Novel's Voice, by Cordelia Jensen
YA Wednesday: Better and Verse, by Padma Venkatraman
Read a verse novel a day for National Poetry Month
Best 9 Tips On Plotting a Novel in Verse from the Fiction Notes blog.
Imagining an Image System, by Cordelia Jensen
FROM OUR COMMUNITY:
"Cordelia was a sensitive and smart reader of our work in progress, linking it effectively to the material under study. The class offered an interesting, intelligent and indirect way to think about my novel draft. For me it unlocked the work and allowed me to find the momentum and energy I was seeking."
"Cordelia was an excellent teacher and shared above and beyond and made the whole class experience worthwhile and informative."
"Cordelia shared an amazing amount of information. There is so little available on Free Verse and I was thrilled to be part of this class."
"I came into the course with very little knowledge about actually writing a verse novel and employing an image system. I left with a world of information."
Faculty & Special Guests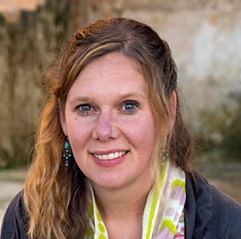 Cordelia Jensen graduated with a MFA in Writing for Children & Young Adults from Vermont College of Fine Arts in…
Learn more