Viewing Children's Books Through an Intersectional Lens
October 11 - November 2, 2021
Please note: this course is full. Please click here to be placed on our waiting list.
Viewing Children's Books Through an Intersectional Lens: A Professional Development for Educators, Storytellers, & Publishing Professionals
4-week online program with pre-recorded material and weekly live sessions on Thursdays at 7pm Eastern (October 14, 21 and 28) and a final session on Tuesday, November 2 at 7pm Eastern.
PARTICIPANT CAP:
60
WHY THIS WORKSHOP?
Reading and discussing children's books makes for better children's books. Whether you are critically reading as an educator, writer, illustrator, editor, agent, or publisher, this important work must be done thoughtfully and with an intersectional lens.
Join children's book educators, researchers, scholars, and storytellers: Dr. Laura M. Jiménez, Franki Sibberson, Clare Landrigan, Lynsey Burkins, and Grace Lin to develop the skills needed to analyze children's books for meaningful representation, reader engagement, visual literacy, and more!
Program participants will review recorded content weekly and prepare reflections for meaningful discussions in our live sessions. Please note: the Week Four material will center participant discoveries to share with the group.
THIS PROGRAM IS A GREAT FIT IF:
You're a writer or illustrator of books for children. This course is especially geared toward stories in the elementary grades, but is applicable for all storytellers.
You work in the publishing industry. Editors, agents, and publishing professionals will deepen their understanding of these essential conversations in the industry.
You're a classroom teacher or you are teaching teachers. Reading, discussing, and analyzing children's books is an essential skill for teachers at all levels.
You're an ally in the fight for representation in children's books. Join us to learn more and spread the word in all children's lit spaces!
You're building a library. Not with hammers and wood, but with BOOKS! Whether it is a personal library, public library, classroom library, school library, Little Free Library, and/or book collection for profit, this course will guide you to a more equitable and inclusive approach to gather books for children!
TENTATIVE AGENDA:
Please note: Participants are not required to purchase all texts for the weekly readings. Instead, you are encouraged to use your local library. If you do purchase, you are also encouraged to purchase from local independent bookstores.
Week One: October 11-14
Reading KidLit With An Intersectional Lens
Monday, October 11
Pre-recorded content release for Week One (introductions and opening presentation)
Welcome, Grace Lin
Centering the Story: Who is Represented, Who is Not, Laura M. Jiménez
Literature is a Liberatory Experience!, Lynsey Burkins
Using Complex & Engaging Literature with Intentionality, Franki Sibberson
Disrupting Nostalgia in Children's Literature for the Classroom, Clare Landrigan
Thursday, October 14, 7-8pm Eastern
LIVE session: small group discussions
Week One Reading:
---
Week Two: October 18-21
Representation in Kidlit
Monday, October 18
Pre-recorded content release for Week Two
The Marketability and Flattening of #OwnVoices, Laura M. Jiménez
Incidental Representation: What it Means & What it Does, Lynsey Burkins
Benefits of #OwnVoices as a White Educator, Clare Landrigan and Franki Sibberson
Thursday, October 21, 7-8pm Eastern
LIVE session: Representation: #OwnVoices, Lived Experiences, Grace Lin
Week Two Reading:
A Big Moon Cake for Little Star by Grace Lin
"Jasilyn Charger: Water Protector," a free verse poem by Joseph Bruchac from No Voice Too Small
"Zach Wahls: With All Due Respect," a triolet poem by Lesléa Newman from No Voice Too Small
Lynsey Burkins: Incidental Diversity
---
Week Three: October 25-28
Critical Visual Literacy
Monday, October 25
Pre-recorded content release for Week Three
Enacting Critical Visual Literacy , Laura M. Jiménez
Lyrical Picture Books, Clare Landrigan
Student Critical Visual Question Stems, Lynsey Burkins
Book Composition: Front/Back Matter, Authors Notes, Embedded Visuals, Franki Sibberson
Thursday, October 28, 7-8pm Eastern
LIVE session: book talks, conversation about illustrations
Week Three Reading:
---
Week Four: November 2
Pulling it all together: Implications for the Classroom and Beyond
Note: no pre-recorded sessions this week.
Tuesday, November 2, 7-8pm Eastern
LIVE session: conversation on Cultural Tourism
Week Four Reading: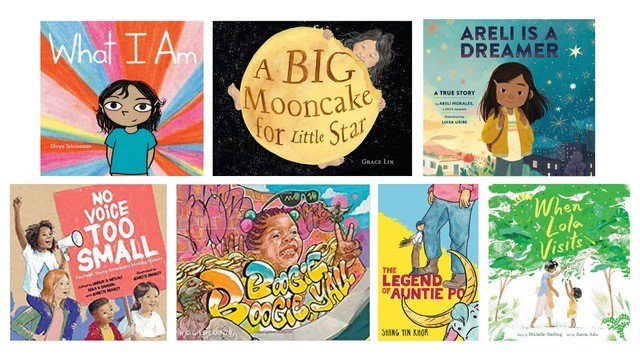 ---
HIGHLIGHTS FOUNDATION RESOURCES AND FAQS FOR WORKSHOPS:
FROM OUR COMMUNITY:
"I learned so much from the team of experts that led this workshop. It was a life-changing experience and I'm looking forward to the next workshop in this series of Essential Conversations."
Faculty