Rhyming Picture Book Webinar: A Two-Night Mini
September 21 - 23, 2021
TYPE & LENGTH:
Online (Webinar-style, limited participant interaction.)
Two 75-minute sessions (September 21 and 23 at 7pm Eastern.)
Short submission of rhyming stanza (no more than 6 lines) due by September 10.
WHY THIS WORKSHOP?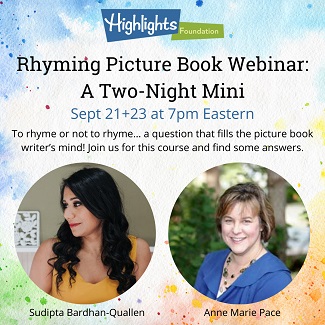 Basics of meter

Keeping consistent meter
Deliberately breaking meter

Types of rhyme and where to find them: end rhyme, internal rhyme, double rhyme, near rhyme, etc.
Classic rhyme schemes and poetic forms: couplets, limericks, other types of poems like haiku and more.
Using refrains and repetition.
Rethinking prose to incorporate poetic techniques.
Part Two: Thursday, September 23 (7pm-8:15pm EST)
Mentor text examples
Resources for rhymers
Q&A
Optional After the Course Critique: An optional picture book critique on a rhyming, rhythmic, and/or lyrical work-in-progress is available. The critique includes a Zoom consultation to discuss your work with feedback and suggestions for strengthening your rhyme/meter. The cost of this optional, after-the-course critique is $100. After the course is over you will receive information about how to purchase this option.
HIGHLIGHTS FOUNDATION RESOURCES AND FAQS FOR WORKSHOPS:
RELATED RESOURCES:
Picture Books: To Rhyme or Not to Rhyme
Picture Book Word Count, and Other Rules That Are Meant to Be Broken
Get to Know Your Picture Book Before You Start Revising
Short and Easy, Right? How Hard Can It Be to Write a Picture Book
Seeing Your Manuscript by Listening
FROM OUR COMMUNITY:
"You picked two very different authors to teach the course and I enjoyed their similar (yet slightly different) perspectives."
"Deep expertise, extremely generous with their time, insights. Perfect pair–very different but complimentary skills/experiences. And funny!"
"The faculty, Sudipta & Anne Marie, were fantastic. It was wonderful to receive direction from such established and prolific writers. They brought a great deal of enthusiasm to their presentations."
"I use to think Highlights was a magical place but taking a course online taught me: it was not just the place but always the people!"
Faculty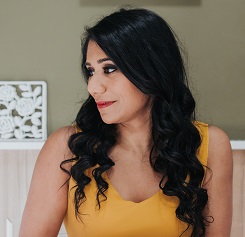 Sudipta Bardhan-Quallen is an award-winning children's book author whose books include Chicks Rule, The United States vs. Jackie Robinson (2019…
Learn more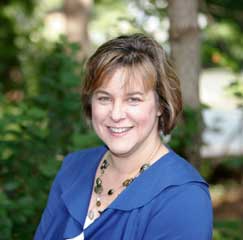 In spite of the adage to write what you know, Anne Marie Pace has never been a vampire, a ballerina,…
Learn more