Relationships in Contemporary MG and YA Novels
September 30 - October 21, 2021
TYPE & LENGTH:
A four week online course (September 30-October 21), with:
Weekly live sessions, Thursdays from 12-2pm Eastern
Weekly writing exercises
Ample self-paced time to make progress on a project, or play with your creativity
1:1 feedback from editor Kat Brzozowski on your cover letter, synopsis, and the first 10 pages of your novel
PARTICIPANT CAP:
16
WHY THIS WORKSHOP?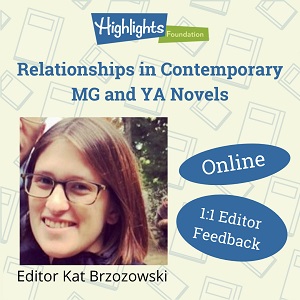 Live Zoom session, 12-2pm Eastern
Small group sharing and discussion
Discussion Four: Relationships as Plot
Closing Q & A discussion
Optional MG & YA Novelist Personal Retreat:
There will be a special retreat for Kat with writers at the Highlights Foundation campus from October 7 – 10, 2021. This will be a time to work at your own pace, and on your own projects. There will be delicious food, snacks, and creative companionship. In the evenings, gather at the fireplace, weather permitting, to share ideas, discuss your inspiration, and relax. There is no expectation for lecture. (For those on campus who wish to schedule their consultation at this time, you will be able to do so in person.) The cost for this 4-day/3-night retreat is $500. Register for the retreat here.
HOW THIS WORKSHOP IMPACTS KIDS:
Readers of contemporary MG and YA novels want to see and identify with vibrant relationships between the characters of your novel. This course will show you how to make these relationships shine.
HIGHLIGHTS FOUNDATION RESOURCES AND FAQS FOR WORKSHOPS:
RELATED RESOURCES:
SCBWI Exclusive with… Kat Brzozowski
Kat Brzozowski on MS Wish List
Kat Brzozowski on Twitter
FROM OUR COMMUNITY:
"The faculty was professional, knowledgeable, fun and real. I appreciated the understanding and time taken with the piece of writing I had submitted for critique. I felt each lecture went deep and applying the writing exercise along with it useful."
"Kat is the first person I've heard actually describe what voice is that made sense."
"Approachable and friendly and welcomed any questions we had. I loved every session."
Faculty