Go Back and Get It: Antiracism and Liberatory Practices for Children's Literature
October 7 - 10, 2021
TYPE & LENGTH:
A four day, in-person retreat (October 7-10) at our Retreat Center with:
Opportunities for lecture, panels, collaboration, and expression
In-community experience for Indigenous, Black, Asian, Latinx, and Creators of Color
The retreat experience allows for time to work, recharge, and rest in your accommodations, paired with the facilitated program. (Detailed agenda below.)
PARTICIPANT CAP:
25
WHY THIS WORKSHOP?
Go Back and Get It! will send you on a personal, familial, community, and industry journey through children's literature; recognizing who you are at the center of it all, inspiring confidence in your voice and illuminating your unique way of storytelling.
BIPOC communities in US youth literature have always created ways to exist on their own terms; cultivating spaces through longstanding practices of writers, researchers, librarians and illustrators. These workers produce knowledge that nurture a continued presence while demanding room for growth.
This program is grounded in the use of text, illustration, and performance as practices of liberation, to provide participants with the opportunity to interact with youth literature past, present, and future. Through a combination of panels and individual workshopping, we will examine how Indigenous and creators of color have produced their own sets of knowledge and aesthetics for youth literature while considering how to hone in on the communities, voices, characters and worlds, all while bringing to the page dignity, creativity, and joy.
Recommended Reading:
The Anti-Racist Writing Workshop: How To Decolonize the Creative Classroom by Felicia Rose Chavez
Craft in the Real World: Rethinking Fiction Writing and Workshopping by Matthew Salesses
IT'S A GREAT FIT IF:
You are a new, newer writer or illustrator of youth-centered stories.
You want to learn more about the legacies of writers, researchers, librarians and illustrators who have created and studied youth literature.
You want to meet and engage with fellow creatives.
You enjoy a retreat experience. Savor time together, and ample time to work and create on your own.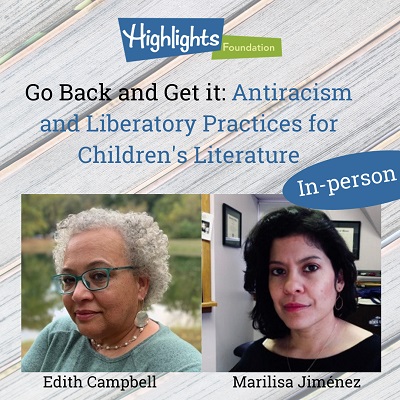 TENTATIVE AGENDA:
Pre-workshop: You will receive a link to our virtual platform where you can introduce yourself to fellow creatives, engage in Highlights Foundation related resources, keep up to date on the schedule of this course, and view submission details related to this course.
There is a brief narrative application associated with this registration where you can offer your bio, hopes for taking this course, and recent reads.
Thursday, October 7
Afternoon
Evening
Appetizers & Dinner
After dinner: Opening Presentation
Friday, October 8
Morning
Breakfast
Today: Go Back & Get It!
Zoom presentation/panel/in-conversation
Afternoon
Lunch
Time to create, or informal gathering
In-person lecture
Evening
Appetizers & Dinner
Time to create, or informal gathering
Saturday, October 9
Morning
Breakfast
Today: Go Forward & Bring It!
Zoom presentation/panel/in-conversation
Afternoon
Lunch
Time to create, or informal gathering
In-person lecture
Evening
Appetizers & Dinner
Time to create, or informal gathering
Sunday, October 10
Morning
Breakfast
Creative Exercise (writing mini-lecture & prompt with sharing)
Final Q & A, Discoveries
Afternoon
*If you are looking for an online experience connected to this program, we are working to find ways to share lectures from this program virtually. Please stay tuned for more information.
SCHOLARSHIPS AVAILABLE:
Scholarships are available for this workshop–the application deadline is August 14 2021. Click here to apply!
For more information about scholarships, click here.
RELATED RESOURCES:
Decolonizing Creative Writing: 6 Guidelines for Teachers, Freelance Editors, and Book Coaches Committed to Equity
HIGHLIGHTS FOUNDATION RESOURCES AND FAQS FOR WORKSHOPS:
FROM OUR COMMUNITY:
"Every single person built community and was humble regardless of their status. It made room for every journey and helped us build confidence and take risks."
"Loved the energy of the group, the physical space we were in (grounds were beautiful) The curriculum was excellent and action focused."
"I learned so much from the team of experts that led this workshop. It was a life changing experience and I'm looking forward to the next workshop in this series of Essential conversations."
Faculty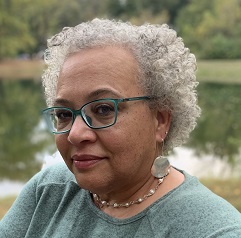 Edith Campbell is an Associate Education Librarian in the Cunningham Memorial Library at Indiana State University. She is a founding…
Learn more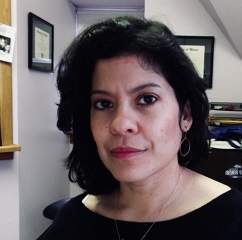 Marilisa Jiménez García is an interdisciplinary scholar specializing in Latino/a literature and culture. Particularly interested in the intersections of race,…
Learn more
$699.00
All-inclusive registration includes workshop tuition, lodging, meals, beverages, and snacks..
Free shuttle is service available from the local airport, train, and bus station, or you can park on site. Get more logistics information here.
Pay in full or secure your spot with a deposit of $200 and payment plans as low as $75/month. We'll be in touch with details after you register.
Do you want help finding a workshop or resources that will fit your needs? Talk to one of our ambassadors.
workshop information