Becoming a Nonfiction Writer: A Two-Part Online Course
October 23 - November 3, 2021
TYPE & LENGTH:
This is an online course with two parts: an intensive weekend, followed by two weeks of pre-recorded lectures, mini-lectures, Q & A sessions, and 1:1 consultations.
Part 1: a two-day intensive (October 23 – 24)
Part 2: consultations and live lectures (October 26 – Nov. 3)
Writing exercises and small group sharing
Opportunities for informal feedback as well as a 1:1 Zoom consultation
Written feedback on your manuscript offered at an additional cost
PARTICIPANT CAP:
24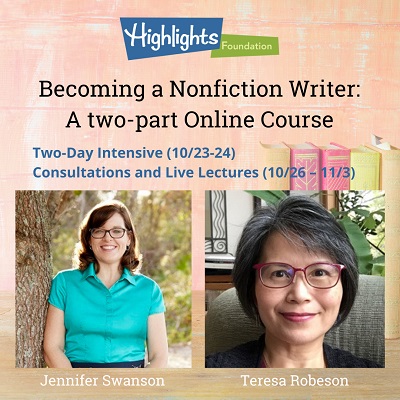 WHY THIS WORKSHOP?
You are ready to begin your work in writing nonfiction for children and teens, but where do you begin? Great idea, yes! But what about the submission process for nonfiction? What about digging deeper into curiosity, narrative structure, and reader engagement? These are the foundations of writing nonfiction for kids and teens. Explore these ideas and more in this online workshop!
This workshop has two parts: a two-day intensive followed by consultations, live lectures, and Q & As. Scroll down to see a detailed agenda.
IT'S A GREAT FIT IF:
You are working on a biography, or nature or science-themed book for kids or teens. Let our faculty help you craft an engaging book for kids.
You love nonfiction and are eager to write TRUE stories. This workshop provides a comprehensive introduction to the world of nonfiction children's books.
You have an in-progress or finished manuscript and aren't sure how or where to submit your work. Pitches, proposals, and publishing opportunities will all be explored during this workshop.
COMMITMENT REQUIRED FOR THE BEST EXPERIENCE:
You'll maximize this course if you attend all of the live sessions, watch pre-recorded video and complete writing exercises before the next live session, fully participate in the small-group sessions and bring your work in progress for informal and faculty feedback.
Note: If your schedule does not allow you to attend the live sessions and you would still like to register, that's OK! You'll have access to the recordings. They're usually posted the day after the session, and they'll be available through December 31, 2021.
TENTATIVE AGENDA:
Part One: Two-Day Intensive
The Foundations of Becoming a Nonfiction Writer
Saturday, October 23
LIVE via Zoom, 7pm – 9pm Eastern:
Welcome
Opening Session: STEAMing into Nonfiction: What it is; What it isn't; and Opportunities for Publication, with Jennifer Swanson, followed by Q & A
Small group introductions & writing activity
Sunday, October 24
LIVE via Zoom, 12pm – 2pm Eastern:
Meet & Greet with fellow writers
Session: Picture Book Biographies: An Overview, with Teresa Robeson, followed by Q & A
LIVE via Zoom, 3pm -4:30pm Eastern:
Lecture: Writing About Science, Nature, and Our World, followed by Q & A with Jennifer Swanson
LIVE via Zoom, 5pm -6pm Eastern
Optional Gather Hour: This is a community-building space where we can get to know fellow writers participating in this course.
LIVE via Zoom, 6pm – 7:30 Eastern
Lecture: Lecture: HOOKING READERS with Your Nonfiction, followed by Q & A with Teresa Robeson and Jennifer Swanson
Review structure of the coming weeks: mini-lectures, what to bring and what to expect of the consultations, and how to use the Canvas classroom.
Part Two: Consultations, LIVE lectures, & Discussions
October 26 – November 3

Consultations, October 26 – Nov. 3 :
20-minute consultations with faculty (Schedule TBD). Faculty will not review manuscripts, but will answer project related questions and discuss ideas.
Wednesday, October 27
LIVE via Zoom, 7pm Eastern
Submission Basics—Proposals, Cover Letters, and Work-for-hire with Jennifer Swanson
Saturday, October 30
LIVE via Zoom, 12pm Eastern
Interview with guest editor (Facilitated by Jennifer Swanson)
Wednesday, November 3
LIVE via Zoom, 7pm Eastern
Lecture: Nonfiction Revision Tips with hands-on exercise, followed by final Q & A
Course Opportunities:
Optional NONFICTION WRITERS Personal Retreat. COVID circumstances permitting, there will be a special retreat for nonfiction writers on the Highlights Foundation campus from October 31 – November 3. This will be a time to work at your own pace, and on your own projects. There will be delicious food, snacks, and creative companionship. In the evenings, faculty from your program hope to gather at the fireplace, weather permitting, to share ideas, discuss the industry and relax. There is no expectation for lecture. You can have your 1:1 consultation LIVE during this retreat. The cost for this 4-day retreat is $500. For more information about retreats, please click here.
Written Critique: Following the class, there is the option to add a written critique from your faculty. After selecting your reader, you will submit your work-in-progress, up to 1,200 words, plus your cover letter. You will receive written feedback on your project within 4-6 weeks of submission. Cost for this optional critique is $100.
HIGHLIGHTS FOUNDATION RESOURCES AND FAQS FOR WORKSHOPS:
RELATED RESOURCES:
Setting a Scene with a STEM Book
7 Ways to Make Your Nonfiction Stand Out
FROM OUR COMMUNITY:
"Jennifer Swanson was very helpful in her workshop sessions. I appreciated her candid advice in the submission process, revisions and what it took her to get published. I really appreciated her one to one session. She is very approachable."
"Jennifer Swanson was fabulous! She was funny and engaging — no small trick during online workshops — and had tons of practical advice for those of us getting started in this world of nonfiction writing for kids. She shared her personal experiences when they illuminated a point or answered a question, but was focused on providing participants with the nuts and bolts we needed."
"Both instructors were extremely well prepared for the course and developed lectures based on feedback from the class participants. They gave plenty of opportunities to ask questions and provided helpful feedback."
"I learned a lot, was encouraged and have an editor that I can submit a manuscript to."
"Even though we were on Zoom, I could sense a community of writers being established throughout the workshop."
Faculty