Online Summer Camp in Illustration: A Weekend Intensive in Artistic Inspiration
July 16 - 18, 2021
TYPE & LENGTH:
A three day, online intensive (Friday, July 16 through Sunday, July 18) centered on mentorship, inspiration, and community with:
opportunities for learning, feedback, and interaction (detailed agenda below)
play with words and materials to inspire your work
ample self-paced time to make progress on a project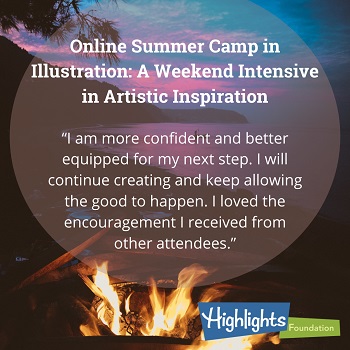 PARTICIPANT CAP:
24
WHY THIS WORKSHOP?
Dedicate three days to our Online Summer Camp in Illustration for inspiration, guidance, mentorship, community, creativity, and growth.
Guidance and mentorship will be offered in two ways with your faculty mentor, once as a 1:1 review of your submission (details below) and as informal meet ups with your faculty mentor on days 2 & 3. The goal of our feedback sessions is to offer you support, as well as ask questions to help you problem-solve, brainstorm new ideas, and work through challenges.
You will:
Engage in demos, art prompts, and writing prompts, all meant to ignite or refresh your passion for the craft of illustrating books for children.
Work one-to-one with faculty on a project of your choice. Faculty mentor/attendee pairings will be made thoughtfully according to your work, style, and your goals. Picture book illustrators will work through one full manuscript/dummy; graphic novelists will submit up to 2,500 words from a work in progress with sketches. If you do not have a work in progress, you can submit a one-page document with story ideas and 5-7 samples of your illustration style. You will be able to review feedback and consult with faculty mentors in the workshop's first 1:1 meetings, and then informally talk about your process in informally groups facilitated by your mentor on days 2 & 3.
Attend Open Hours to explore possibilities, ask questions, visit with art directors, and stretch creatively.
IT'S A GREAT FIT IF:
You're new to children's book illustration. You'll get a 1:1 critique that will help you look at your work-in-progress in a new way, and you'll learn about what art directors expect when you are ready to submit.
You're an experienced artist who is curious about how to get started in children's publishing. You will find out about the children's market, learn about and get feedback from faculty mentors.
You're a published children's illustrator. Learn new illustration techniques! Find and advance ideas through play, doodling, demos, and more.
You have an in-progress or finished project and would like feedback. Your faculty mentor will give you feedback, answer questions, and support you in setting goals.
You need a jolt of creativity or a reminder of purpose. Summer Camp can be about getting work done if you want it to be, but it can also be about renewing your spark and purpose in illustrating for children.
COMMITMENT REQUIRED FOR THE BEST EXPERIENCE:
This intensive is best if you attend and engage in all the live sessions. Participants are encouraged to leave open/schedule blocks of time for themselves to work on projects and reflections throughout.
If you can't attend live, lectures, tours and exercises will also be recorded each day and placed in the virtual classroom to watch (or re-watch) for up to 30 days after the close of Camp.
You may submit one full picture book dummy, up to 10 pages from a graphic novel, or a link to a digital portfolio, plus cover letter at least 3 weeks prior to Camp for faculty critique. (After registration, you will receive comprehensive submission details.)
After online Summer Camp, you could choose to come to campus on a personal writing retreat to explore your feedback and make progress on your project with other attendees who choose to do the same. Dates will be announced as they become available.
AGENDA:
By June 28: Submission of project(s) for faculty mentor and peer group. (See details above.)
Week of July 12:
Virtual classroom opens with pre-conference materials and opportunities to connect with fellow illustrators. You will also meet via Zoom with your peer small group and facilitator to discuss:
Questions and what to expect
Information and guidelines for participating in our version of small group feedback/critique sessions
Intensive Day One: Friday, July 16 (Approximately 2.5 hours of programming.)
Throughout the day:
1:1s via Zoom with your Faculty Mentor (scheduled at mutually convenient times)
Evening: Formal Kickoff via Zoom
6pm Eastern: Welcome and introductions
6:30pm Eastern: Opening demo on traditional and digital illustration
8pm Eastern: Meet in small groups as check in and to ask questions
Intensive Day Two: Saturday July 17 (Approximately 6.5 hours of programming; additional time may be spent writing/revising/revisiting.)
11am Eastern: Optional Art Prompt
12pm Eastern: Lecture/Demo #2 (topic to come)
1:30pm Eastern: Optional Writing prompt
3:30pm Eastern: Small group discussion with mentor
5:30pm Eastern: Optional Office Hour/Social Hour/ Optional Color Chart Demo (hang, talk, create)
6:30pm Eastern: Panel one: The Life of an Author/Illustrator
Intensive Day Three: Sunday July 18 (Approximately 6.5 hours of programming; additional time may be spent writing/revising/revisiting.)
11am Eastern: Optional Hang with Art Directors Aram Kim and Jen Keenan (time tentative; may be adjusted pending schedule confirmation)
12pm Eastern: Lecture/Demo #3 (topic to come)
1:30pm Eastern: Optional Art Prompt
3:30pm Eastern: Lecture/ Demo #4 including Studio Tour and Inspiration on keeping an artist's journal
5:30pm Eastern: Optional Office Hour/Social Hour/or Optional Flex Pen & Ink Demo (hang, talk, create)
6:30pm Eastern: Final panel: Find Your Inspiration and Keep Going
Note: Later in the summer/fall we will announce personal writing retreat dates at our Retreat Center that are opened first to attendees of our online Summer Camps. That could be an ideal time to make progress on your projects and spend time in community with fellow attendees in person. Dates will be announced as they become available.
HOW THIS PROGRAM IMPACTS KIDS:
Picture books and graphic novels celebrate both story and art! Learn to use your art to collaborate or create inspiring books for kids. Get support, motivation, reassurance, and sense of community from fellow creators who share your passion.
HIGHLIGHTS FOUNDATION RESOURCES AND FAQS FOR WORKSHOPS:
RELATED RESOURCES:
True Confessions of a Picture Book Illustrator
In two blog posts, Elizabeth Rose Stanton comes to some peace with her issues, including her "colored pencil problem" and her realization that "my supply of watercolors will probably outlive me." Read Part 1, and then read Part 2. Be ready to laugh!
Steve Light: Creative Spaces
In this video from All the Wonders, you will get an insight into Steve's illustration process, learn about the tools he used as a child, and hear wonderful advice for any aspiring artist. Watch the video.
Author-Illustrator Spotlight: Kathryn Otoshi
Great interview on Kidlit411 with Kathryn Otoshi about process and publication. Read it here.
Crafting Your Picture Book Dummy
Lisa Cinelli gives you step-by-step instructions for how to create a picture book dummy, ready for submission. Find out how!
Let the Book Come to You
Robert Blake shares his best practices for using journals and sketchbooks. Can you believe he has 25,000 pages in his personal sketchbook library? Read about them here.
Graphic Novelists Need to Write in Pictures
Matt Phelan shares his particular method for creating comics. Find out what it is
Get It Right With Research
Don Tate shares the process he went through to get the details right for his nonfiction picture book biography about the creator of the Super Soaker water gun. Glimpse his process here.
FROM OUR COMMUNITY:
"Great mentors, professionals and people! They were all open and forthcoming about their art, their careers, their process, etc., and very responsive to questions. They seem to genuinely enjoy their work and are supportive of those still developing their skills and portfolio. It was also great that they took the time to participate in each others' sessions to see others' perspective and build camaraderie among them–it further allowed the workshop to feel like a community versus instructors and students."
"The 1:1 meeting and the studio tours provided a whole other layer of valuable information."
"It was an inspiring experience, that gives me a new outlook for advancing the illustration work I do. I came in not know much about the illustration industry and practice, and left with direction."
"I needed this boost of inspiration. I realized the story I sent in needed to really be cut, I worked on 2 separate characters, shared my dummy book at open mic, and played in different techniques this week. Definitely wouldn't have done all that work on my own."
"Each faculty member was so generous with their time, information, helpful hints and amazing demonstrations. Add to that humor and sensitivity and authenticity."
"I am so pleased that I participated and realize I am ready to get over the fear factor and start submitting to agents and publishers."
"I am more confident and better equipped for my next step. I will continue creating and keep allowing the good to happen. I loved the encouragement I received from other attendees."
Faculty