So You Want to be an Author/Illustrator?
June 24 - August 12, 2021
TYPE & LENGTH:
8-week, facilitated online workshop with:
Self-paced recordings and resources (minimum of 1.5 hours of content provided per week)
Weekly assignments and resources (including craft assignments, peer feedback, and discussion in the virtual classroom; time commitment required can vary)
Live Zoom sessions (5 evening lectures; approximately 1 – 2 hours in length depending on topic)
Meet special guest author/illustrators during industry panels
1:1 consultation (scheduled in week 6 at a mutually convenient time)
Optional after-workshop critique (available at an additional cost)
Full details are included below.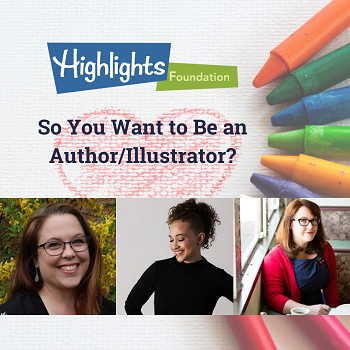 PARTICIPANT CAP:
18
WHY THIS WORKSHOP?
You'll explore the possibilities of moving from Illustrator to Author/Illustrator, or becoming an Author/Illustrator. During this workshop you will:
Find out how to get ideas and keep them flowing.
Use story sketches to spark ideas.
Examine the elements of a picture book.
Discover how to leave room for the illustrator–even if you are the illustrator.
How to paginate your story and use thumbnail sketches to create a dummy.
Move toward a finished picture book dummy (mock-up). With focus, participants should be able to complete/revise a working dummy in its entirety.
Discuss tech tips for making dummies (mock-ups) including Photoshop and PDFs
This course offers an intense level of feedback on your work. In addition to peer feedback, you'll receive close attention from Courtney, who will give feedback on your:
Manuscript draft
Character sketches
Pitch
Pacing
Dummy (mock-up) draft
Note: If your schedule does not allow you to attend LIVE sessions, that's OK! You'll have access to the recordings. They're usually posted the day after the session, and they'll be available through  9/30/21.)
IT'S A GREAT FIT IF:
You're an illustrator and you would like to try to create both the text and illustrations for a picture book. This course aims to help you with both ways of storytelling.
You're a beginner who knows you'd like to both illustrate and write your picture books.
You're ready to devote some time to learn and practice. This course offers long-term support over 8 weeks and allows you to learn at your own pace.
AGENDA:
This course is divided into 8 sessions:
Week 1: Meeting, Sketching and Sharing
Assignments: Character sketches (free and prompt based)
Discussion, Sharing of Sketches and Poll
Thursday, June 24, 8:30 pm Eastern: Live Zoom session (Course Overview, Introductions, "Let's Draw" Presentation)
Week 2: How to Turn an Idea Into a Story
Assignments: Emotion drawings, Elevator pitches, and Where is the universal love connection?
PLEASE WATCH pre-recorded video: How to Find the Story in the Week 2 Chapter of this curriculum prior to our LIVE ZOOM
Thursday, July 1, 8:30 pm Eastern: Live Zoom session (After watching the video, we'll meet and discuss favorite character sketches and brainstorm ideas)
Week 3: What Makes a Picture Book?
Pre-recorded video: What is the Story? Plot, character development and emotion in 32 pages and under 500 words.
Assignment: first draft of the story; Share first draft of the story text with faculty
No Live sessions this week
Week 4: Polishing the Story
Resources: Tech tips for creating your dummy (mock up); pagination tips; and how to do background studies
Assignments: Paginate your story, create thumbnails/storyboard, create one full color piece.
Thursday, July 15 *Meet early: 7:00 pm Eastern: Panel and LIVE Zoom Roundtables with Faculty to Critique Submissions
Week 5: How to Make a Dummy
"How to Make a Dummy" resources
Assignment: complete your first dummy and schedule your 1:1 session
Discussion board: open for questions and to share
Thursday, July 22, 8:30 pm: Live session on Thumbnail Sketches
Week 6: Teacher Feedback on Revisions and Plans for Dummy
Week of July 29: Live Zoom calls to discuss questions and progress (times based on individual sign ups)
Week 7: Dummy Submissions
Revise your dummy and submit it!
No Live sessions this week
Week 8: What Happens Next?
Pre-recorded video: Revision–the Best of Times, the Worst of Times
Resources: How to find an agent
Peer dummy review & discussion
Thursday, August 12, 8:30 pm Eastern: Live Zoom: Celebrate and Q & A
Optional After the Course:
An optional full dummy critique on the revised project from class (or a new project) will be available. The critique includes written feedback and a LIVE zoom 1:1 (scheduled at a time convenient for all). The cost of this optional, after-the-course critique is $125.
Optional Author/Illustrator Personal Retreat. COVID circumstances permitting, there will be a special retreat for a small group of alums of this course on the Highlights Foundation campus from September 30-October 3, 2021. This will be a time to work at your own pace, and on your own projects. There will be delicious food, snacks, and creative companionship. Optional times to gather and sketch, draw, paint or write will occur organically, and at various times and locations around the retreat center. In the evenings, Courtney hopes to gather at the fireplace, weather permitting, to share ideas, discuss the industry and relax. There is no expectation for lecture. The cost for this 4-day retreat is $500. For more information about retreats, please click here.
Details for both after-the-course options will be shared with registered participants.
---
HOW THIS PROGRAM IMPACTS KIDS:
Picture books are the first entry point for getting children engaged in story. At this workshop you will learn how text and pictures join together to create powerful picture books.
HIGHLIGHTS FOUNDATION RESOURCES AND FAQS FOR WORKSHOPS:
RELATED RESOURCES
Crafting a Picture Book Dummy
How to Write a Picture Book (When You're An Illustrator)
Breaking Through Those Creative Blocks
Illustrator Inspiration from Shadra Strickland & Kelly Light (video)
FROM OUR COMMUNITY:
"I loved, loved, LOVED the feedback. Gave me good info to work on, also was able to ask questions pertaining just to my personal concerns. Yeah!!"
"I have a PB dummy with characters that have great personalities because of what I learned in this course."
"Courtney was clear in her directions and very encouraging. She was a real cheerleader and at this stage of our development I think that was appropriate. I learned a ton. The exercise of going through the book dummy process and getting good guidance with examples and foundational information was really excellent. I know a lot more now than I did at the beginning of the class."
"This was my first experience taking a Highlights course and it was a truly wonderful informative experience. I was an editorial illustrator many years ago and this was my step back in–Courtney really taught the class to every level of artist/writer there. I learned so much and ended up with a book dummy I am proud of and can't wait to try and get published. Courtney was so generous with her knowledge sharing real life info about the children's book industry."
Watch as workshop leader Courtney Pippin-Mathur talks to George Brown about what to expect from the course, who should attend, what the course structure is, and more:
Faculty